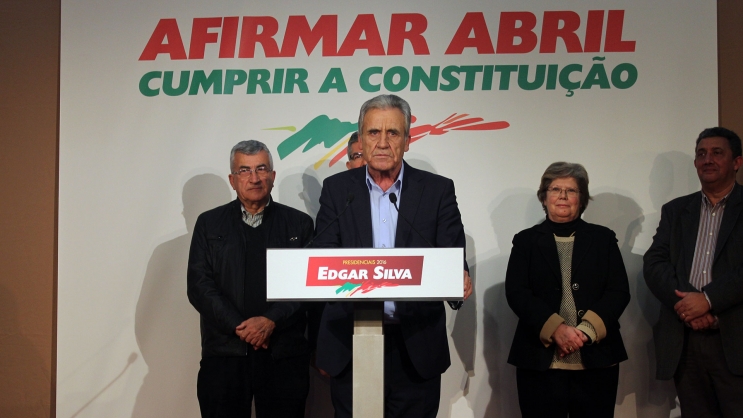 The GS of the Portuguese Communist Party (PCP) made a statement on the results of the presidential elections
ICP, 25 January 2016
The General Secretary of PCP, Jeronimo de Sousa made a speech after the results of the presidential elections on 24th January were released in Portugal.
"These elections confirmed the importance of the PCP having its own, autonomous voice during the debate on the role and powers of the President of the Republic. No other candidate stated with the same clarity the value of the Constitution of the Republic as an essential reference for a different course in the country's political life, which can fully ensure the right of the Portuguese people and of the country to its development, to progress and social justice." said the General Secretary.
The GS pointed out the "prolonged" media construction which they believed has been run to conceal Sousa's "real position regarding critical issues".  Sousa added:
"The result obtained by the candidacy of Edgar Silva falls short of what the importance of his project required, both in terms of the goal of these elections – ensuring a President of the Republic that defended, respected and fulfilled the Constitution – and also for what it represents and reflects, in terms of a coherent and irreplaceable activity in the struggle of today and of tomorrow, for a different course for our national political life..."
The centre-right candidate Marcelo Rebelo de Sousa has won the presidential elections by gaining 52,4% of the votes in the first round. Currently a Socialist minority government runs Portugal with the support of the PCP and the Left Bloc (See the link for related ICP news).
PCP had introduced Edgar Silva as their candidate and held a campaign for the presidential elections (See the link). Silva got 3,95% of the votes The turnout rate is reported to be 48,83% in the Sunday's election.
For the full speech of the GS of PCP Jeronimo de Sousa,in English see the link.