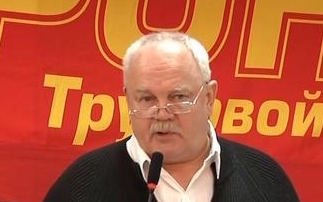 Interview with Viktor Tyulkin from the Russian Communist Workers' Party (RCWP) on Russian elections and Putin.
ICP, 16 March 2018
In an interview with 1st Secretary ROT Front of the Russian Communist Workers' Party, Central Committee member Viktor Tyulkin answered questions on the Russian elections and called Putin's power play as a 'bluff'. The interview was issued on 6 March on the official website of RCWP.
'I think that Putin's ratings are actually not so high as presented by local opinion polls agencies' Tyulkin said, 'That's why they have to go out of their ways to maintain the image of Putin: first it was the broadcasting of Oliver Stone's documentary about him on the 1st TV Channel, now it is this address full of propaganda.'
Tyulkin mentioned that in the previous elections, Putin had promised that he would create 25 millions of Hi-tech working places, that productivity whould increase by 50%, that the real income of population would increase by 40-50%. However the results show that none of these targets have been reached.
During Putin's reign, the income of Russian workers has decreased by 5%. Moreover, the number of USD billionaires in Russia has increased from a dozen to more than a hundred while the list of billionaires is headed by Putin's cronies.
Tyulkin asserted in the interview, 'That's why he prefers to attract attention of the listeners to the issues of defense and the alleged special role of Russia as savior of the world when he speaks about the defense, it is the defense of Russian oligarchs, and primarily those oligarchs that belong to Putin's close circle that is meant.'
Concerning the weapons displayed by Putin to show off the military capacity of Russia, Tyulkin expressed that their development was started in Soviet times and 'in particular it's in favour of American hawks who can expect sharp increase in military spending'. According to Tyulkin, militarization of economy is used as a means to treat the crisis in Russia.
'We wouldn't be surprised to know that this part of election campaign was agreed with USA, possibly during the last visit of the head of Russian secret service to Washington. One can now raise an issue of USA interference in Russian elections' he added.