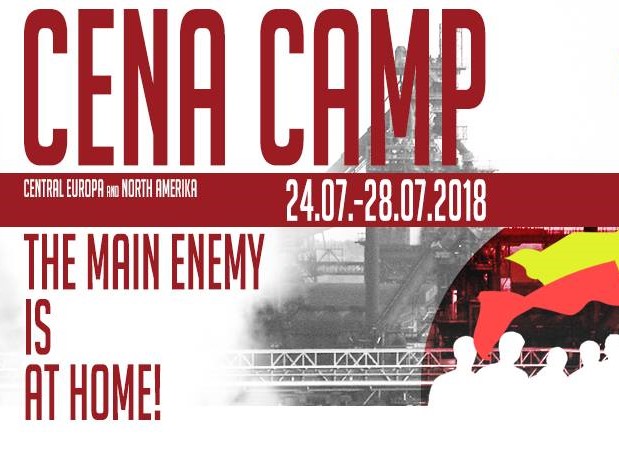 WFDY CENA camp took place in Vienna with the participation of 14 anti-imperialist youth organizations.
ICP, 1 August 2018
Central Europe-North America (CENA) region of the World Federation of Democratic Youth (WFDY) held a camp in Vienna between July 24-28. Organized under Karl Liebknecht's slogan "The main enemy is at home!", the camp was hosted by the Communist Youth of Austria (KJÖ) with the participation of 14 anti-imperialist youth organizations.
In the first day of the camp, members of the KJÖ and the Party of Labour of Austria (PdA) greeted the international delegates. Implying the continuity of the anti-people policies led by social-democratic and right-wing governments, the PdA underlined the need for orienting people's hatred towards capitalism in order to overcome the imperialist barbarity and to construct a new world of friendship and peace, namely socialism. On July 25, following the session reserved for the organizational issues of the WFDY, a debate on the fight for the rights of the youth was held with the participation of each delegate.
In the third day of the camp, the slogan "The main enemy is at home!", which is actually the title of Karl Liebknecht's article published in 1915, was discussed. Representatives from the PdA emphasized the actuality of this slogan given the recent developments towards protectionism in the world and the intensifying danger of a generalized war. They asserted that the main enemy of the working class is bourgeoisie and that reciprocally the bourgeoisie's main enemy is also at home, the proletariat. Explaining the current tendencies of the Austrian imperialism with references to "Berlin-Vienna-Rome axis" and with plans regarding the Balkans, PdA cadres put forward that they will never choose side between imperialists and that the imperialist stage of capitalism implies the passage to socialism.
In the following days of the WFDY camp took place a debate on the anti-imperialist youth struggle for peace, a protest against NATO and EU in front of the EU house in Vienna, a visit to the Red Army monument in Stalingrad Square, the intervention of an old veteran member of the PdA who participated in the liberation of Vienna from Nazi fascism, presentations on the history of the communist struggle in Austria and a little concert with songs of the labour movement from all around the world.