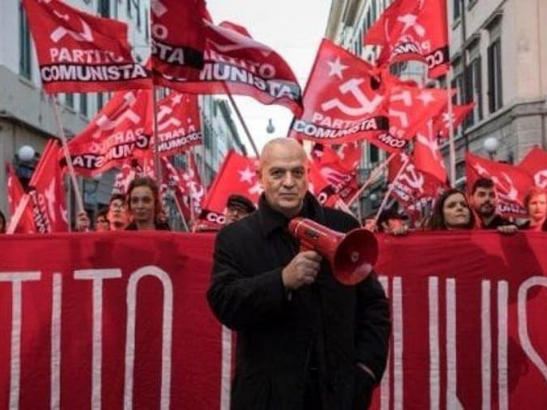 Marco Rizzo commented on the political crisis in Italy.
ICP, 30 August 2019
On August 17, Alberto Maggi interviewed Marco Rizzo, General Secretary of the Partito Comunista, for Affari Italiani.
"What we define as markets," describes Rizzo, "in reality, are the command line of capitalist globalization, which dramatize the economic situation and then impose a clear solution as they are used to do." In case of a 5 Star - PD government, Rizzo asserts that such a government would have nothing subversive to the powers given by the International Monetary Fund, European Central Bank, NATO and the EU itself. Paradoxically, the case of a League government that would emerge from the elections and would represent a certainly liberal version of a part of the Italian media and bourgeoisie, Rizzo interprets, would be a less welcome situation. The General Secretary adds that beyond the anti-European discourses, Salvini has never questioned even the European treaties.
Rizzo marks the "terrible faults of the Italian left" as one of the reasons lying beneath the leadership problem in Italian politics. He puts forward that they are all paying for the betrayal of the people like Occhetto and D'Alema who, having dissolved the PCI, flirted with banks and strong powers and handed over what remained in the hands of neo-Christian Democrats like Matteo Renzi. Rizzo underlines that the genetic mutation of the PCI had been underway for many years with many terrible political and theoretical mistakes, leading to an era of historical compromise, of joining the EU with beautiful words about the "end of the propulsive thrust of the Soviet Revolution" and about the umbrella of NATO. "What happens now," indicates Rizzo, "is only the continuation of that season of abjuration."
It was hard work, which took at least 15 years for the Partito Comunista to eliminate all the theoretical blunders put in place by the opportunists who led the communist refoundation. Marco Rizzo says that they had to reconstruct a common narrative about the great experience of the international communist movement and the Soviet Union in particular but adds that now they are ready. They have a Marxist-Leninist theoretical line and a political line refuting political alliances with "this fuchsia left-wing and these friends of the banks." As to the most important point, Rizzo announces that they are going to hand the baton over to thousands and thousands of young people prepared theoretically, culturally and organizationally. The General Secretary concludes that the Homeland will not be saved by Salvini's conception of "sovereignty" but by Communists, certainly.
See the
link
for the interview in Italian.