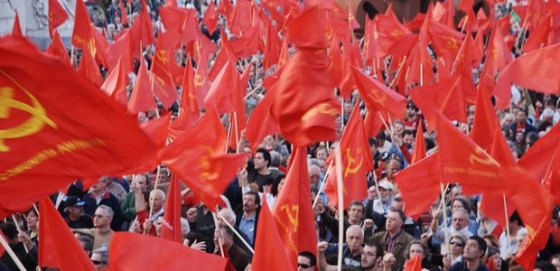 Portuguese Communist Party (PCP) released a statement expressing solidarity with Bolivarian Venezuela.
ICP, 9th December 2015
Portuguese Communist Party (PCP) made a statement in the aftermath of the parliamentary election in Venezuela. 
In the parliamentary election, United Socialist Party of Venezuela (PSUV)  had lost the majority to the opposition coalition Democratic Unity Roundtable (MUD) in the parliament. According to the National Electoral Council, MUD has secured at least 99 seats in the parliament while PSUV has got 46 seats at the moment.
The press release of PCP is as follows:
"In the aftermath of the parliamentary elections in the Bolivarian Republic of Venezuela, where after 17 years (and 18 elections where they were defeated) the counter-revolutionary forces achieved the majority of seats in parliament, the PCP expresses its solidarity with the forces gathered in the Great Patriotic Pole, and in particular with the United Socialist Party of Venezuela and the Communist Party of Venezuela, with the confidence that the progressive and revolutionary Venezuelan forces will find solutions to defend the Bolivarian revolutionary process and its historical achievements, which have had such important repercussions in Latin America.
The PCP stresses that these elections took place in the context of a particularly unfavourable economic climate as a result of a drop in oil prices and in the context of vast destabilizing operations and economic boycott by the most reactionary Venezuelan sectors, articulated with imperialism's interference against the Bolivarian Revolution.
The PCP alerts to imperialism's attempt to use the unfavourable election results in Venezuela to step up its fight against the processes of sovereignty and social progress that have subtracted the Latin American continent from its domination and calls for the solidarity with the peoples and the progressive and revolutionary forces of Venezuela and all Latin American."