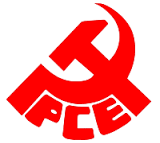 The Federal Committee of the Communist Party of Spain (PCE) declared the start of their campaign for the general elections of December 20.
ICP, 12th November 2015
On the 8th of November, the last Federal Committee of PCE was held prior to the general elections of December 20 in Spain. The General Secretary of the PCE, José Luis Centella,declaring the campaign as: 
 "(to) place us in the class struggle and give us a great ideological load" (...) We have to take advantage of it in order to value the programmatic proposals which distinguish the aim of democratic rupture towards a constituent proposal a new country, generating political, social and Trade Union alliances".
Centella added that they were the only force "that clearly brings up a groundbreaking proposal " which is kept alive "without surrendering nor accepting the game of the consolidation of the monarchical system ", unlike PODEMOS.
After the Federal Committee meeting a statement was released, pointing out to the role of the PCE in the future of the Left, by saying: "we have not accepted the old idea of the construction of a new force for change that must be made from the liquidation of Izquierda Unida in which the PCE has a specific weight, and it has been advocated that there can be no future for the left without having the Communist Party really existing and organized."
The General Secretary Centella added that after the elections, the duty of the PCE will be defending the need to maintain the largest highest popular unity in the processes of transformation, regarding the formation of the new constitution.
Additionally, referring to Catalonia, Centella explained that to unlock the situation, they "have to go to a constitutional process in the entire State, in which Catalonia should also have that constituent process but not unilaterally".