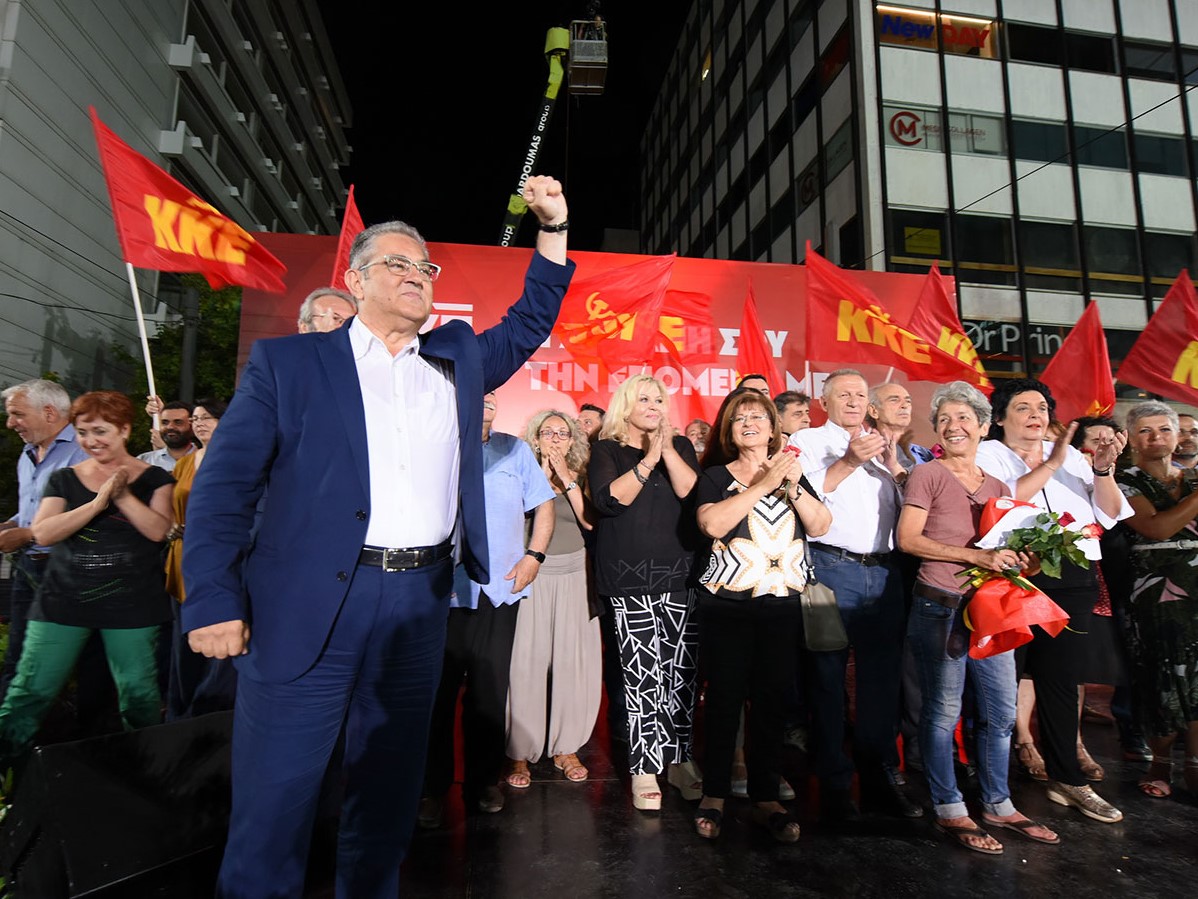 KKE votes to be utilized for organizing struggles to block new measures.
ICP, 8 July 2019
According to the results of the early general elections of July 7 in Greece, governing party SYRIZA -that received 31.5% of the votes- is replaced by the conservative party of New Democracy, which came first with 39.8%. The Communist Party of Greece (KKE) held its position within the Parliament with 15 seats obtained upon 300,000 votes (5.3%).
The Party interpreted, "This result was achieved in conditions of the change of the correlation of forces amongst the bourgeois parties, a generalized trend towards increasing conservatism, blackmail, disillusionment that had been sowed by the anti-people political line of the 'left' SYRIZA government." 
Immediately after the declaration of the results, Dimitris Koutsoumpas, GS of the CC of the KKE, made a statement, in which he thanked all those who voted for the KKE and all those who cooperated with the KKE in this election battle by participating in its lists. Koutsoumpas stated a new correlation of forces between the bourgeois parties characterized by the superiority of the ND over SYRIZA but without a substantial change in the political line, which led to the strengthening of the two-pole system, as well as an overall trend towards increasing conservatism.
Koutsoumpas reminded that the exploitation and slandering of left socialist values by SYRIZA demobilized left radical people and impacted negatively on the labour-people's movement. While considering as negative that a section of the people turned to older tried and tested anti-people choices like the ND, the GS of the KKE CC noted as a positive result that the Golden Dawn has retreated in terms of votes and percentage and will not enter the Parliament as it seems.
As to the votes achieved by the KKE, Koutoumpas declared, "The new parliamentary group with the percentage given by the Greek people to the KKE will devote all its forces in the years to come to promote and defend the interests of the working class, popular strata of our country. The votes of the KKE will be utilized from tomorrow morning in every workplace, neighbourhood, in the schools, in the universities to organize struggles in order to block new measures, in order to bring relief to all who suffer."
"The KKE," he added finally, "with all its forces, inside and outside of Parliament, will fight against the new government from the standpoint of the workers'-people's needs, it will play the leading role in organizing the struggles of the working class, the popular sections of the middle strata against the full-scale assault of capital, the EU, NATO in order to pave the way for the real overthrow.
See the
link
for full statement.