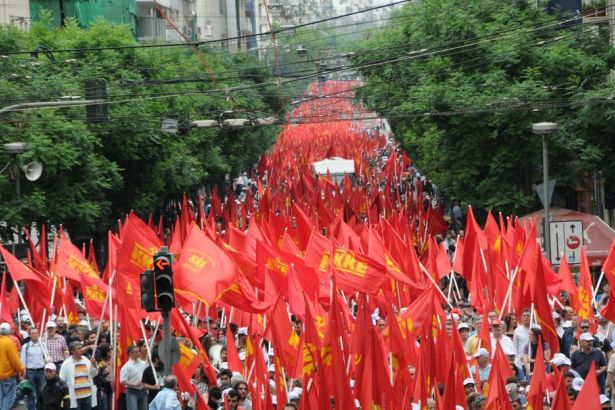 The disreputable president of Turkey Recep Tayyip Erdoğan has once again made a poor statement, this time on the Treaty of Lausanne*, distorting history.
"They've offered us Sèvres** (Treaty) in 1920, then prevailed upon us the Lausenne (Treaty) in 1923. Certain people tried to sell us the Lausenne (Treaty) as a victory. We surrendered the islands on our elbow owing to Lausanne (Treaty) "  Erdoğan had said last week.
The Press Office of the CC of the KKE released the below statement in reply to Erdogan's words:
«Erdogan's statements are dangerous and provocative and are part of the systematic efforts of the Turkish leadership to dispute the Aegean islands and the borders and sovereign rights of Greece more generally, to raise the issue of "grey zones".
The period when these statements were made was no accident, as the negotiations are intensifying around the "closure" of the Cyprus question, on the basis of two component states, while the bargaining over the refugee issue between Turkey and the EU is underway. With these specific statements, Turkey is objectively exerting pressure in order to settle these matters in an even more negative direction for the peoples.
Once again, the government and the other political forces have been exposed, which for many years have been reassuring the Greek people that the alliance between Greece and Turkey, in the framework of NATO, is an agent for the "peace and security in the region", the moment when NATO not only does not subdue the aggressive designs of Turkey, but on the contrary foments and reinforces them."
* The Treaty of Lausanne was a peace treaty signed in Lausanne, on 24 July 1923. It officially settled the conflict that had originally existed between the Ottoman Empire and the Allied British Empire, French Republic, Kingdom of Italy, Empire of Japan, Kingdom of Greece, and the Kingdom of Romania since the onset of World War I. It was the result of a second attempt at peace after the failed Treaty of Sèvres, which was signed by all previous parties but later rejected by the Turkish national movement who fought against the previous terms and significant loss of territory. The Treaty of Lausanne ended the conflict and defined the borders of the modern Turkish Republic.
** The Treaty of Sèvres , signed on 10 August 1920 was one of a series of treaties that the nations constituting the Central Powers signed subsequent to their defeat in World War I. The Sèvres treaty marked the beginning of the partitioning of the Ottoman Empire, and its ultimate annihilation. The terms it stipulated included the renunciation of all non-Turkish territory that was part of the Ottoman Empire and their cession to the Allied administration