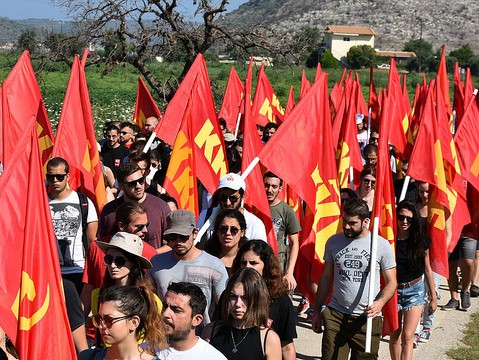 The 27th Anti-Imperialist Camp of KNE took place on July 6-8 under the slogan 'Join us to the struggle against the system that bears poverty, wars, refugees!'
ICP, 11 July 2018
The Communist Youth of Greece (KNE) organized its 27th Anti-Imperialist Camp on July 6-8 near the city of Patras, Alissos under the slogan "Join us to the struggle against the system that bears poverty, wars, refugees!" with the participation of thousands of young men and women from all around Greece. Within the framework of the camp were held musical concerts, sports activities, kids' camp for the younger ages (from the age of 9 years) as well as debates for the 50 years of the KNE and for the 100 years of the Communist Party of Greece (KKE). Communist Youth Front of Italy (FGC), Communist Youth Union of Yugoslavia (SKOJ) and Communist Youth of Turkey (TKG) were the communist youth organizations from neighboring countries that sent representatives.
Accompanied by anti-imperialist slogans and slogans honoring the century-long struggle of the KKE and 50 years since the foundation of the KNE, the GS of the CC of the KKE, Dimitris Koutsoumbas took the floor on July 6. Koutsoumbas denounced the plans to reinstall in Greece nuclear weapons, namely in the air-base of Araxos near Patras, probably the 50 US nuclear warheads that are currently situated in İncirlik air-base in Turkey. Criticizing the governmental strategy of "geostrategic upgrading of the country" with further military installations, Koutsoumbas declared that this new strategy of the SYRIZA-ANEL government has nothing to do with upgrading the interests and the rights of the peoples, with peace, solidarity and friendship of the peoples, "but has all to do with the geostrategic upgrading of the bourgeois class of Greece and consequently the upgrading of all the dangers and of bigger implications in imperialist wars, interventions and confrontations." He ended his speech by calling upon the youth for drawing conclusions and struggling for workers' power, strengthening the solidarity and the common action of the peoples against the capitalists and their interstate alliances.
See the
link
for photos and videos of the camp.