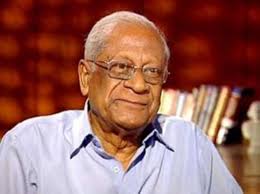 Communist Partyof India (CPI) leader Ardhendu Bhushan Bardhan died on 2nd January after a struggle over a brain hemorrhage.
ICP, 3rd January 2016
The National Council of the Communist Party of India (CPI) announced the death of veteran leader of the Indian Left and Communist movement, Com A B Bardhan on 2nd January 2016. The central office of CPI reported that Bardhan had brain hemorrhage on December 7, 2015 and was rushed to GB Pant Hospital, where after struggling for almost a month he has lost his life. Veteran communist was 91 years old and leaves behind a son, Ashok and a daughter, Dr Alka.
It was also reported that Com Bardhan had his first brain hemorrhage in January 2015 at Nagpur during the session of the National Council of the CPI. Although that attack had affected his left side, he had returned back to his routine work, guiding the party. A B Bardhan attended the 22nd Party Congress at Puducherry held in 2015 and piloted the new Party Programme that was unanimously adopted.
The cremation of the veteran communist leader is reported to take place on January 4, 2016 (Monday).
The brief bio-data of Comrade A. B. Bardhan provided by the Central Officce of CPI is as follows:
"Comrade Ardhendu Bhushan Bardhan was born on September 25, 1925 at Sylhet, now in Bangladesh. He joined the Student Movement (All India Students' Federation) in the year 1940, when he entered the University of Nagpur, presently Maharshtra. The same year, in late 1940, he was admitted into the then illegal Communist Party of India.
He became a full-time student organiser, while continuing his studies, and in 1945 he was elected the Secretary of AISF, which he continued to be till early 1948. He was also elected the President of the Nagpur University Students' Union.
He left home and became a Party full-timer from 1941.After leaving the student movement, he joined as a Trade Union organiser, and worked amongst power workers, railway workers, textile workers, defence workers, press workers, engineering workers and so on. He was the pioneer in organizing handloom weavers all over the country.
For his activities as a student, trade union and Party organiser, he was arrested several times, and spent a total of about four and half years in jail starting from the 'Quit India' (August 1942) Movement. He was underground for nearly two years, during which he worked as a trade union organiser in Calcutta (West Bengal).
He was elected a member of Madhya Pradesh Provincial Committee of the CPI, and then a member of the Maharashtra State Council of the CPI, also a member of its state secretariat, beginning with 1942. He continued his studies which were interrupted several times due to arrests, etc, and obtained the M. A. (Economics) and L. L. B. (Bachelor of Law) degrees.
In 1957, he was elected for a five-year term to the Maharashtra State Legislative Assembly. In 1968, he was elected to the National Council of the Party at its 8th Congress.
Following the Bhatinda Congress in 1978, he was elected to the Party's Central Executive Committee.
In 1982, at the Varanasi Congress of the Party, he was elected to the Party's Central Secretariat. He became the Deputy General Secretary of the CPI in October 1995 (at the 16th Congress), and in August 1996 he was elected the General Secretary. He has been continuously elected as General Secretary till 21st Patna Party Congress held in 2012.
Com. A. B. Bardhan has held several leading positions in the Indian Trade Union Movement, as a top official of several unions and National Federations. He became the General Secretary of the All India Trade Union Congress (AITUC) in March 1994, a post which he relinquished on becoming the General Secretary of the Communist Party of India in 1996, which he continued to hold till the CPI Party Congress at Patna in 2012. 
He was the brain behind the drafting of the new programme of the CPI which was adopted at Puducherry Party Congress.  In this Congress, the Party constitution was amended to create a permanent Programme Commission. Comrade Bardhan was elected first chairman of the Programme Commission.  In that capacity he was also a member of the National Executive.  Com. Bardhan was a prolific writer.  Apart from writing an ideological and political issue, he was written number of books and booklets on problems Adivasis, minorities, history of working class movement.
His last book was on 'Crisis of Corporate Capitalism' that had number of editions during the last one decade."