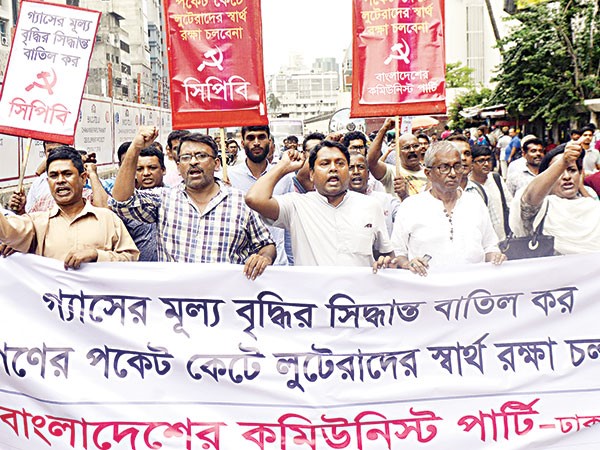 CPB organizes countrywide public protest and agitation over gas price hike.
ICP, 3 July 2019
The Communist Party of Bangladesh (CPB) declared on July 2, that the Party strongly rejected government's announcement of increasing Gas Price saying it irrational and anti-people. Accordingly, the Left Democratic Alliance, an alliance of eight left-leaning political parties, comprises CPB, BSD and other left parties has called a half-day strike (hartal) across the country on July 7 to protest the gas tariff hike.
Protesting the Price hike leader of Left Democratic Alliance and CPB President Mujahidul Islam Selim declared that if the government stop corruption and abandon wrong policies it is possible to reduce gas price instead of increasing. He added that this price hike by government mainly aimed to provide benefits to corrupt business houses who are selling liquid natural gas (LNG). The decision of this price hike came at a time when five out of the six gas distribution companies are already making profits with the existing price rates. Gas prices were last increased on March 1 in 2017. According to the latest decision, the new weighted average prices of gas at the consumer level is Tk9.8 a cubic foot, 32% increase from Tk7.38. Under the new decision, the monthly gas bills for both single-burner, and double-burner cooking stoves will stand at Tk925, and Tk975 respectively, which is a 23.33%, and 21.87% increase respectively. The existing bills for household single and double burners are Tk750, and Tk800 per month respectively. This price rise will also increase the price of cylinder gas accordingly which is widely used countrywide for household cooking, especially in rural areas.
Supporting the half day countrywide strike the Dhaka city unit of CPB organized a rally on the 1st of July in front of National Press Club. Addressing the rally CPB General Secretary Md. Shah Alam called upon the countrymen to make 7th July strike successful.