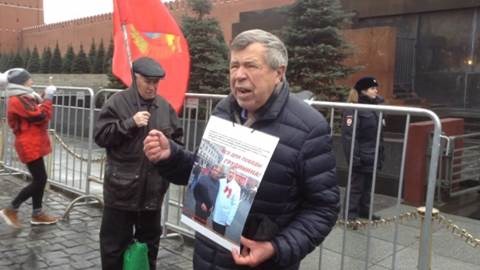 Historical leader of the communist movement "Labor Russia" Victor Ivanovich Anpilov died at the age of 73.  
ICP, 20 January 1918
He was born in 1945 in the Krasnodar Territory. He graduated from the Faculty of Journalism of Moscow State University and worked for many years in the State Television and Radio of the USSR. In 1991 he established the "Labor Russia" movement, and carried out its leadership until the end of his life. The movement played a leading role in the massive protests against the Yeltsin regime, which took place in 1991-1993 period.
Anpilov who made a valuable contribution to the revival of the communist movement in the worst days of the counter-revolution was a resistant revolutionary who never gave up struggling in the face of the challenges of the capitalist restoration.
In spite of the divisions within the communist movement of Russia, Anpilov was a figure respected by the movement as a whole.
His comrades and friends are bidding his farewell today, on January 20th, in the Troyekurovsky Cemetery, Moscow.