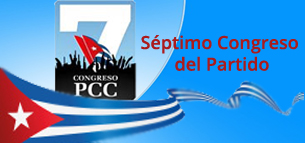 Cuban Communist Party (PCC) emphasized the role of the Party to counter the new challenges for Cuba [ES]
ICP, 12th April 2016
Cuban Communist Party (PCC) released an article at Granma before its 7th Congress discussing  the role of PCC for "the preservation of the work of the Revolution".
The article emphasizes the leading role of the PCC for the people of Cuba, regarding the challenges associated with the reestablishing diplomatic relations with the United States.
"...(T)he party cemented the unity of the entire people and led their resistance in the face of attacks of all kinds by the successive U.S. administrations, now it is doing so in a new scenario." says the article titled "Without the Party, the Revolution could not exist". Granma underlines the "irreplaceable" role of the PCC in maintaining the socialist course.
The 7th Congress of PCC will be held on April 16-19 with about 1,000 delegates and will focus on the continuity of the economic reforms to update Cuba's socialist model approved at the 6th Congress in 2011.
Fidel Castro was also elected to be a delegate to the communist conclave in the eastern city of Santiago de Cuba, this February. See the link for the story on ICP.