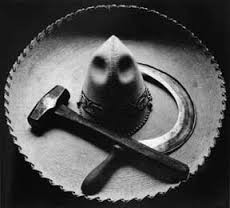 The PCM stated gratification on the last month's peace deal between Revolutionary Armed Forces of Colombia-People's Army (FARC-EP) and the Colombian Government.
ICP, 27th October 2015
The Communist Party of Mexico, represented by the First Secretary of the Central Committee Pavel Blanco, met the Peace Delegation of the FARC-EP, the Commander Timoleon Jimenez and the Commander in Chief of the Central Major State, in Havana, Cuba. 
The PCM stated that their delegation got informed about the developments, opportunities and risks related to the peace talks that may lead to the signing of peace in Colombia. It is also stated that the PCM welcomed the decision of the FARC-EP "to do everything possible for a political solution, with justice and dignity, consequently ideas that have sustained more than half a century of tireless struggle for a New Colombia."
The PCM emphasized its solidarity with the struggle of FARC-EP, having its origin in the class struggle of the exploited and oppressed for a better life and a socialist society.
Last month, the FARC-EP and the Colombian Government reached a peace deal in which both sides agreed on a deadline for March 23 2016 to sign a final peace document, which will then be taken to a referendum.
See the link for the related story on ICP