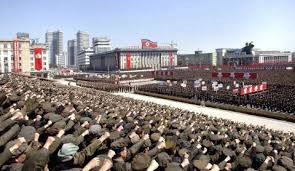 The Party for Socialism and Liberation (PSL) criticized the statements of the US officials denouncing the Democratic Peoples Republic of Korea (DPRK).
ICP 30th April 2016
An editorial article published in the newspaper of PSL, Liberation criticizing the statement of the U.S. officials which denounced North Korea's firing of a test ballistics missile from an underwater submarine.
The article reveals that it is the U.S., not the DPRK threatening peace in the Korean peninsula.
Pointing to the U.S.-led war simulation, which began March 7 and runs through the end of April, involving more than 315,000 U.S. and South Korean troops, as well as aircraft carriers, jet fighters and nuclear capable bombers, the statement calls this war exercise an outrageous and ominous threat against not only President Kim Jong Un, but the government and people as a whole..
The statement also notes:
"North Korea's leaders, government and people are constantly the target of humiliating and racist portrayals. They are portrayed as unstable, mad and irrational, a danger to United States national security. The demonization turns reality on its head, painting the U.S. as the victim and the DPRK as the aggressor.
The truth is that ever since the United States virtually obliterated the DPRK with its 1950-1953 carpet-bombing war, the U.S. has continuously threatened the existence of socialist North Korea."
The PSL calls for an end to the U.S. war drills, that the U.S. sign a peace treaty, lift all sanctions, and end the military occupation of South Korea.