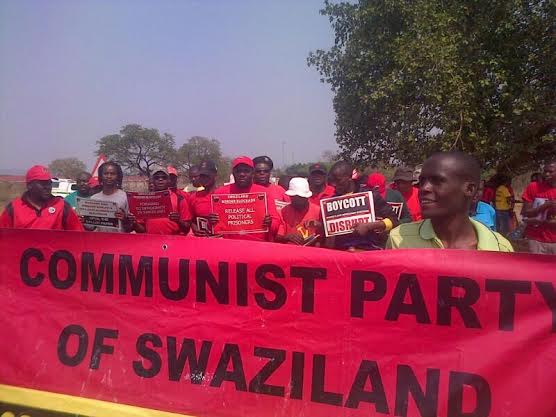 As royals of Swaziland continue to make luxurious spendings from the people's taxes, the Communist Party of Swaziland released a condemning statement 
ICP, 4 May 2018
As featured in AllAfrica news portal with the headline "Swazi Royals Spend, Spend Spend" King Mswati, the absolute monarch of Swaziland, one of the remaining absolute monarchies, wore a watch worth US$1.6 million and a suit beaded with diamonds to his 50th birthday party.
By a statement issued today, the Communist Party of Swaziland strongly denounced the luxurious consumptions of the monarch amidst the deepening poverty of the country's people. The statement said that "These expensive "gifts" that Mswati has bought using funds stolen from the people is facilitated by the tinkhundla government of fraud and gangsters. " On the contrary, about 70 percent of the people of Swaziland survive on less than US$2 per day and more than 350 000 of the about 1.1 million population of Swaziland are in need of food aid.
The party accuses the king of using public funds to celebrate his more than US$80 million birthday party, buying expensive items on top of a purchase of a second private jet worth over US$40.3 million. 
The Communist Party of Swaziland states that it is clear that Mswati will do everything to keep the dictatorship for the sole reason that it keeps him, his family and the ruling elite in luxury. The party points out the role of the existing "toy-parliament" is to act as a buffer zone against criticism, and instead helps him and his regime to organise violence against dissenting views. 
The Party demands that the regime must be crushed and all royal bashes and festivals must be stopped to save the country's resources and state funds from the loot. Criticising the 2018 elections as "sham", the statement concludes with a call that the voices for freedom and democracy be amplified: "Not another cent to Mswati! No to tinkhundla system! Yes to Democracy!"
The announcement of the king a couple of weeks ago drew global attention, that the country would henceforth be called eSwatini, as according to what he said the name Swaziland is confused with Switzerland. Though it was made without consultation and still would need a constitutional change.