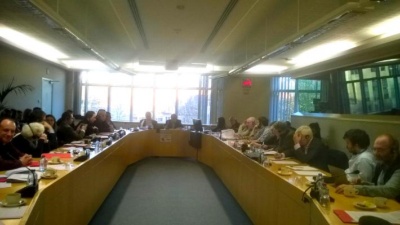 Motion of the Plenum of the European Communist "Initiative"
The USA, the EU and NATO bear enormous responsibilities for the slaughter of the peoples
The developments in Syria, the Middle East, North Africa, Ukraine underscore that capital's aggression against the peoples is intensifying, the inter-imperialist antagonisms are sharpening and that they lead to military interventions and wars, cost the peoples dearly, cause large-scale movements of immigrants and refugees.
The USA, the imperialist alliances of the EU and NATO and their allies in the various regions, are playing the leading role in these dangerous developments. In this direction, they utilize amongst other things the criminals of the "Islamic State" in the Middle East, and armed fascist gangs in Ukraine.
The Communist and Workers Parties that participate in the "Initiative" call on the workers:
• To strengthen their struggle against the participation of their countries in the plans of the imperialist powers.
• To strengthen their solidarity with the refugees and the peoples that face imperialist interventions. 
• To strengthen their struggle against the monopolies, capitalism and the bourgeois states, which cause the imperialist interventions and wars.