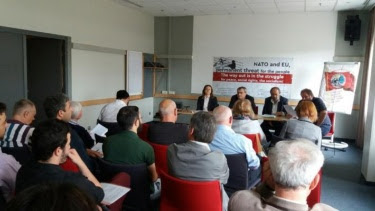 The European Communist Initiative held a meeting in Warsaw on the occasion of the NATO summit on Friday July 8th. The slogan of the meeting was "NATO and the EU are a permanent threat for the peoples. The way out is to be found in the struggle for peace, social rights, socialism". At the meeting the hostility of the NATO against the working class and socialism was debated. Additionally the thread of the war provoking US troops which were launched at the Russian borders of Europe were also discussed. 
The 11 Parties participated to the meeting were as follows: 
CP of Greece, Workers Party of Ireland, CP Italy,Hungarian Workers Party, Movement of "People's Resistance Moldova", CP of Norway, CP of Poland, CP of Slovakia, CP of People's of Spain,CP of Sweden, Communist Party, Turkey.
"The presence of the "EUROPEAN COMMUNIST INITIATIVE" in Warsaw is a significant internationalist step that was in harmony with the will of the peoples who have condemned NATO in their consciousness.This presence is an important and decisive step in the activity of the INITIATIVE showing the readiness, vigilance and militant action of the communist parties in Europe.It was a direct and immediate response against the dangerous imperialist plans of NATO worldwide and its upgrade cooperation with EU against the peoples bringing new bloodbaths, dismantling of countries, changing of borders and new streams of refugees. 
The event was also an expression of clear condemnation of the anti communist prosecutions against the CP Poland, rejecting and denouncing the ban of communist activity that are been promoted by the polish government and EU."  declared the Initiative's website.
The participant delegates of the meeting also took part in the "Anti NATO" rally on Saturday July 9th in the centre of Warsaw together with the World Peace Council.