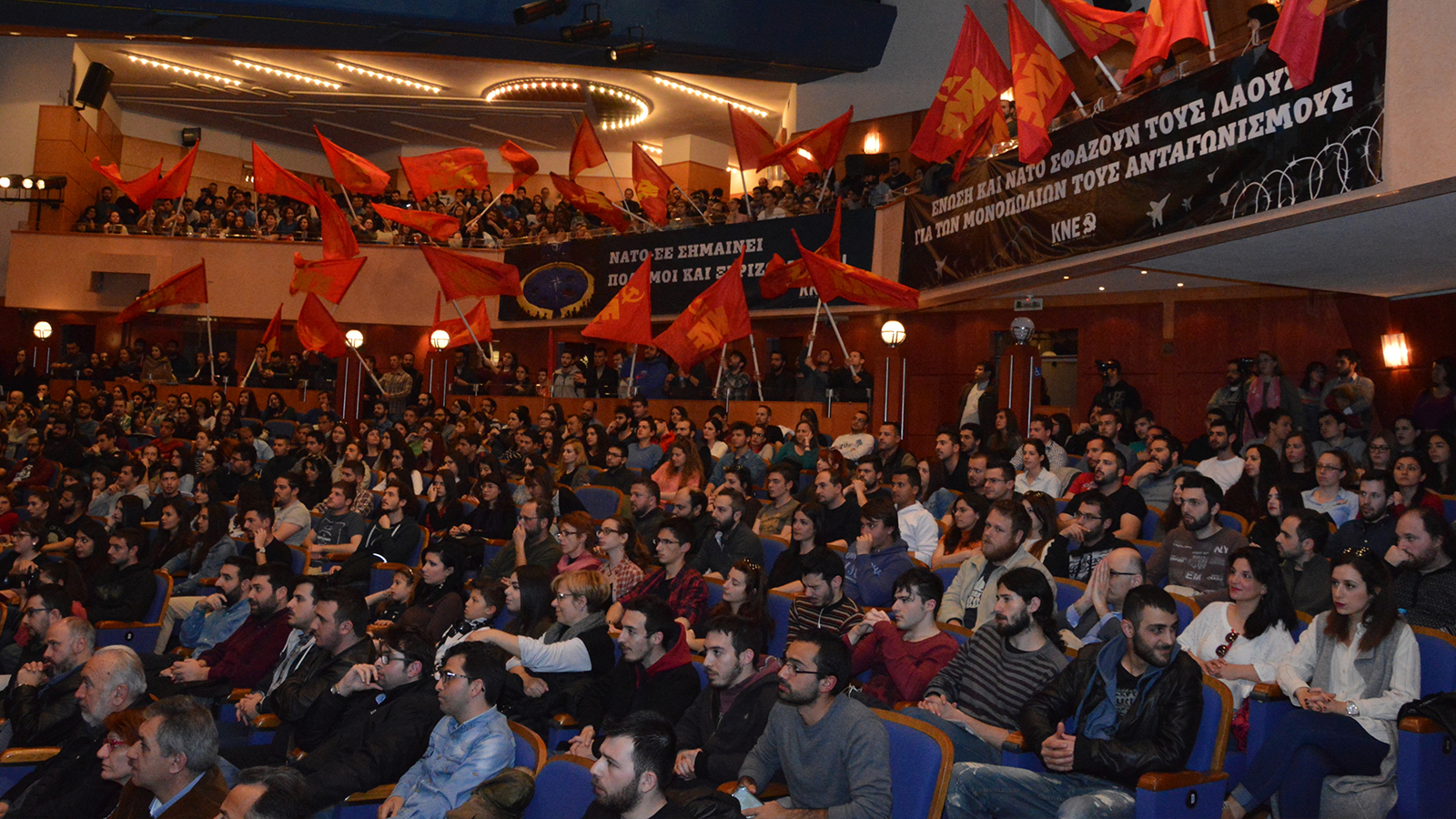 The two-days international event of the Communist Youth from different countries on refugee issue took place in Thessaloniki last weekend.
ICP, 12 April 2017
The two-days international event, organized by the Communist Youth of Greece (KNE) took place in Thessaloniki on 8-9 April. An ideological seminar, a spectacular hall meeting and a visit to a refugee hot spot had been carried out in the framework of the two-days event.
At the event, hosted by the Communist Youth of Greece (KNE), Socialist German Workers' Youth (SDAJ) from Germany, Collectives of Young Communists (CJC) from Spain, Front of Communist Youth (FGC) from Italy, League of Communist Youth of Yugoslavia (SKOJ) from Serbia and Communist Youth of Turkey (TKG) were the five organizations represented.
The international event has started on Saturday April 8th, when KNE members put a large banner on the very symbol of Thessaloniki, the White Tower.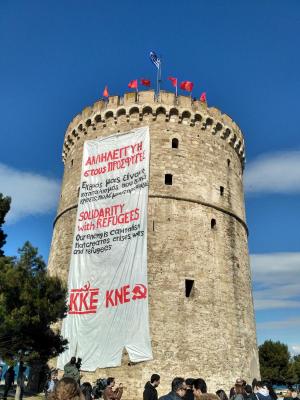 At the international seminar on "the attitude of the communists in the imperialist war", it was declared that no side is to be chosen in the bloody wars launched for the interests of the bourgeoisie and that the working class of each country is to fight against its own exploiters. Having exposed the meaningless position of a superficial pacifist discourse, the unseparable character between struggle against imperialism and struggle against opportunism was emphasized.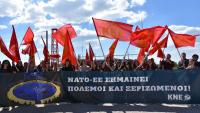 The political-cultural event in the University of Macedonia illustrated with decisiveness and enthusiasm. After the greeting speeches of the invited youth organizations, the Secretary of the CC of KNE, Nikos Ampatielos took the floor. He underlined the crucial tasks that the youth has to take care of on the road for socialism. The hall event ended after the spectacular concert given by communist musicians from the local organization of the Communist Party of Greece (KKE).
On Sunday April 9th, KNE members and the international delegation payed a visit to a refugee hot spot nearby Thessaloniki. Communists, who had the opportunity to talk with refugees from Afghanistan and Syria, delivered the school goods collected in the University of Macedonia the previous day for the refugee children. Thus took an end the two-days event hosted by the KNE.