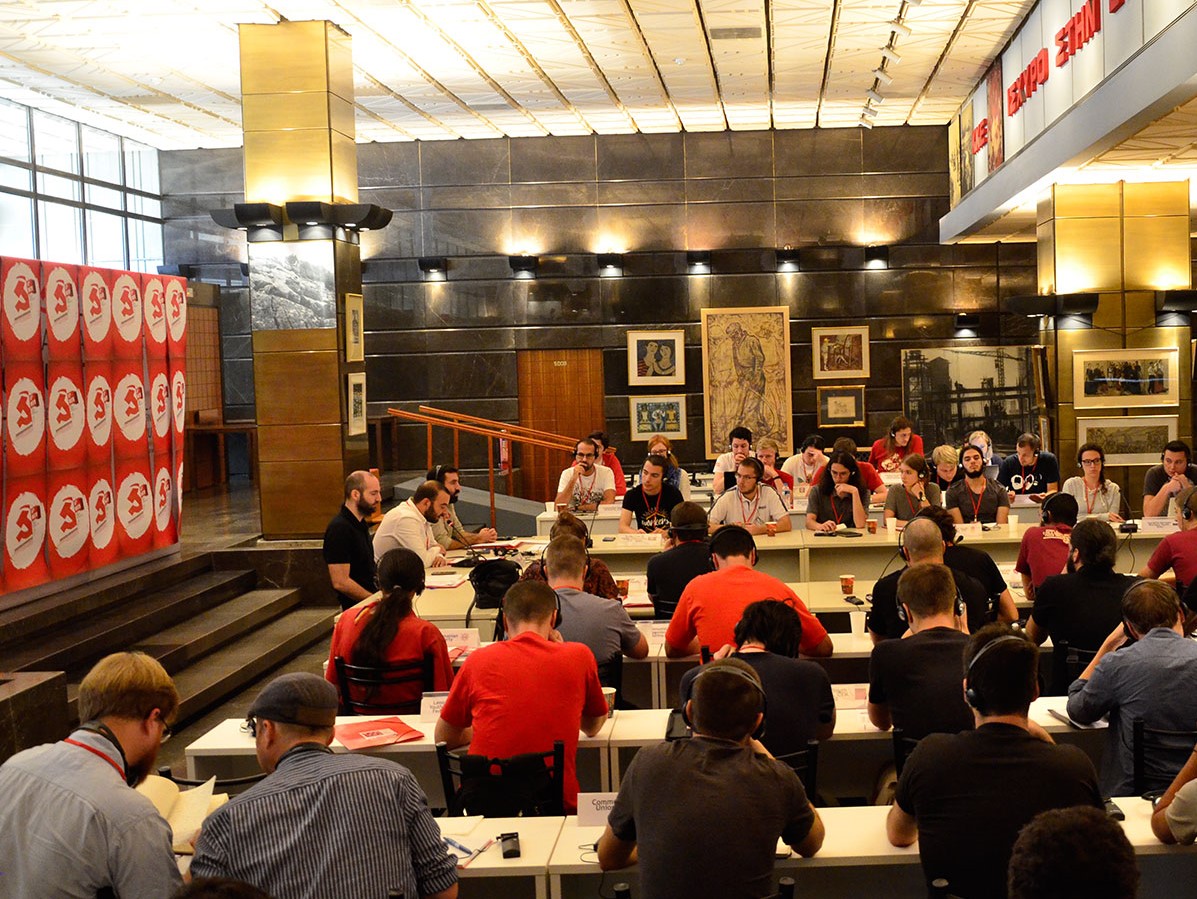 The Communist Youth of Greece hosted the 14th Meeting of European Communist Youth Organizations in Athens on September 23-24.
ICP, 26 September 2018
The Meeting of European Communist Youth Organizations (MECYO), which takes place every year, is a forum for discussion, exchange of experience and promotion of joint action and coordination among Communist Youth Organizations. The 13th MECYO had taken place in İstanbul in February 2017 and celebrated the centenary of the Great October Revolution.
On September 23-24, the 14th MECYO was held in Athens. Following the 44th KNE Festival dedicated to the 100th year of the Communist Party of Greece (KKE) and the 50th year of the Communist Youth of Greece (KNE), the KNE hosted 23 Communist Youth Organizations from all around Europe for the 14th MECYO. In accordance with the main slogan "We strengthen the Communist Youth Organizations! We reinforce the struggle against the imperialist war and the capitalist exploitation, for the contemporary rights of the youth in education-work-life", delegates from 24 organizations contributed to the seminar entitled "The vanguard action of the young communists for the strengthening of the workers' movement with new forces. Their particular responsibility for the organization, acquisition of mass characteristics and orientation of the students' movement."
The meeting started with the opening speech of Nikos Abatielos, the Secretary of the Central Council of the KNE, who emphasized the need for deepening the discussions and strengthening the international communist movement in accordance with a perspective for revolutionary restructuring. Abatielos was followed by the President of the World Federation of Democratic Youth (WFDY), Iacovos Tofari, who emphasized the need for uniting around anti-imperialist struggle until conditions get ready for socialist construction. Delegates from Communist Youth Organizations described the worsening conditions of the students and young workers in their countries and presented their analyses and struggles under these conditions while they reiterated their conviction in the struggle for socialism.
List of the organizations that participated in the 14th MECYO:
1. Communist Youth of Austria - KJÖ
2. Young Communist League Britain - YCL Britain
3. Young Socialists of the Socialist Workers' Party of Croatia
4. United Democratic Youth Organization - EDON, Cyprus
5. Communist Youth Union - KSM, Czech Republic
6. Communist Youth of Denmark - UngKom
7. Youth of the Communist Workers' Party of Finland
8. Movement of Young Communists of France - MJCF
9. Socialist German Worker Youth - SDAJ
10. Communist Youth of Greece - KNE
11. Connolly Youth Movement - CYM, Ireland
12. Front of Communist Youth - FGC, Italy
13. Youth of Socialist Workers' Party of Latvia
14. Movement of Young Communists - CJB, Netherlands
15. Youth of the Communist Party of Poland
16. Portuguese Communist Youth - JCP
17. Union of Socialist Youth - UTS, Romania
18. Leninist Communist Youth Union of Russian Federation - LKSM RF
19. Revolutionary Communist Youth League (Bolsheviks) - RKSM(B), Russia
20. Young Communist League of Yugoslavia - SKOJ, Serbia
21. Collectives of Young Communists - CJC, Spain
22. Communist Youth Union of Spain - UJCE
23. Communist Youth of Sweden - SKU
24. Communist Youth of Turkey - TKG