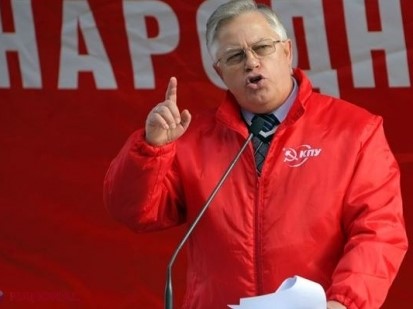 Ukrainian Security Service broke into the Communist Party's office and the First Secretary Petro Symonenko's house on the eve of the Victory Day.
ICP, 10 May 2018
On May 8, the eve of the 73rd anniversary of the Great Anti-Fascist Victory of the Peoples, Ukrainian Security Service broke into the premises of the Communist Party of Ukraine (CPU) in Kiev as well as into the office and house of the First Secretary Petro Symonenko. Security forces broke the gates of the CPU office without even waiting for the arrival of a lawyer or presenting any legal ground for their intervention. The pretext of the investigation is claimed to be "involvement of the banned Communist Party in anti-state activities" and fictive plans about "destabilization of the socio-political situation in the country by provoking violent clashes between activists of public-political organizations." Accordingly, photos of the seized communist symbols and propaganda materials are exposed as criminal evidence.
The CPU, which has been prohibited under the law since 2016, draws attention to the fact that Nazism and fascism in Ukraine have become a state ideology. The CC of the CPU points out that Nazi collaborators are declared heroes, that celebrations are organized and commemorative medals and stamps are issued in honor of Nazi SS units whereas communists are persecuted and attacked. The CPU asserts that Fascism and Nazism are elevated by the ruling regime to the rank of the state policy and actively fueled by the international capital led by the US, NATO and the EU. The purpose of the provocation is explained by the CPU as "to disrupt the forthcoming ceremonial events, to prevent the mass participation of Ukrainians in commemorative processions and to prevent them from laying flowers on the monuments of the true heroes of our people - the Soviet soldiers-liberators."
See the 
link 
for the statement of the CPU's Department for International Relations in English.
See the 
link 
for the statement of the CC of the CPU in Ukrainian.
Communist Parties issued a joint statement denouncing the new attacks against the CPU. Expressing their solidarity with the members and the leadership of the CPU, the undersigned parties state, "These developments in Ukraine are the outrageous escalation of continuous intense attacks and persecution of the Ukrainian communists that started right after the coup d'etat over the democratically elected government in 2014 that also led to the rise of neo-nazi and ultra-nationalist groups at all levels of the political and social spectrum of the country."
See the 
link 
for full text and the list of the undersigned parties.