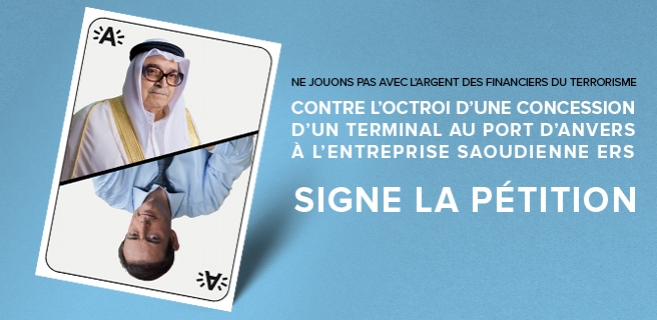 The Workers' Party of Belgium (PTB) launched a petition against collaboration with financiers of terrorism.
ICP, 1st December 2015
PTB launched a petition against concessions for the Saudi capital at Port Antwerp. The Saudi broker Al Issa family has applied for concessions for the investment of a company named Energy Recovery Systems (ERS) at Port Antwerp. PTB objects this on the grounds of the reputation of Al Issa family as being one of the financiers of the Sunni islamist terrorists.
"We don't play with the money of terrorism: No to concessions for the saudi at Port Antwerp" titled the petition. PTB appeals for rejection of the application of ERS by Dock Delwaid, which is in charge of the administration of Port Antwerp.
The petition denounces these concessions as hypocrisy pointing out the paradox of the so called anti-terrorist struggle in the country at one hand and "welcoming the financiers of jihadi terrorists" on the other.
For the full text of the petition in French see the link.