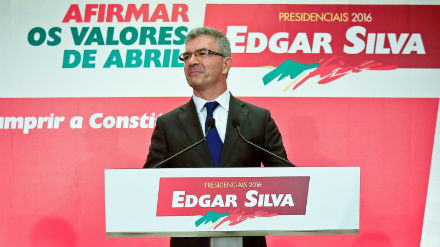 PCP candidate Edgar Silva presented his ten main political lines including defending the rights and freedoms of the workers and national independence.
ICP, 19th October 2015
For the next presidential elections in January 2016, Portuguese Communist Party (PCP) will be supporting Edgar Silva, the communist deputy at the Madeira regional assembly and member of the Central Committee of the Party.
Edgar Silva has presented his ten main political lines during a public event in Lisbon as: to defend the Constitution; to defend and deepen the democratic regime; to defend the rights and freedoms of the workers; to defend the social rights; to promote the economic growth and development; to fight against the social exclusion; to ensure a high priority to children; to meet the Portuguese diaspora; to claim a participatory and decentralized state, and to defend the national independence.
On the other hand, PCP's electoral coalition (CDU) partners have not yet officially declared their support for Silva. In the last presidential elections, CDU supported communist candidate Francisco Lopes who had ranked fourth with 7,1% of votes.