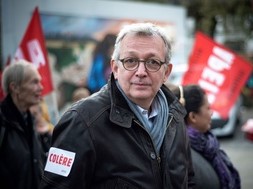 Pierre Laurent, National Secretary of the French Communist Party (PCF), issued a report for the upcoming congress.
ICP, 24 October 2018
"Ivry Congress" of the French Communist Party (PCF) will be held on November 23-25. Three weeks ago, among 49,231 communists who are members of more than three months declared by local federations to be up to date on their dues, 30,841 Party members (representing the participation of 62,65 %) voted on the choice of a common basis for the congress discussion. While 11,467 members, representing 38% of the total, voted for the common basis proposed by the National Council of the Party, 12,719 members, representing 42.14 % of the total, voted for another proposition entitled "For the Manifesto of the Communist Party of the XXIst century". These results represent an unexperienced situation as the common base proposition of the National Council is not chosen and no proposition has obtained majority for the first time in the history of the PCF.
Pierre Laurent, National Secretary of the PCF, issued a report for treating issues about the preparation of the upcoming congress. Praising the choice of a common basis as an important phase, Laurent asserts that the vote has demonstrated that the Communist Party remains one of the most active political groups in the country and that it is democratic and operates in transparency. At this stage of the congress process, instead of repeating the first phase of discussion, which would not allow the emergence of a clear majority, Laurent reminds the responsibility of the National Council, the National Executive Committee, and himself as National Secretary to ensure that the process brings together Communists based on the sovereign choices of their members in this final phase of the process.
Laurent describes the democratic construction of the final text as the first question to treat at this point and gives his ideas on various issues to be treated in the text. At the end of the report, Laurent expresses his point of view on the composition of the future national leadership. He asserts that the human and political diversity is a an advantage rather than a problem for the PCF and adds that the problem is to build political unity of action through this diversity. Laurent reiterates his candidacy for the Party leadership by declaring that his ambition for the Party, for its transformation, for its unity in offensive action remains intact.
See the link for full text in French and English.