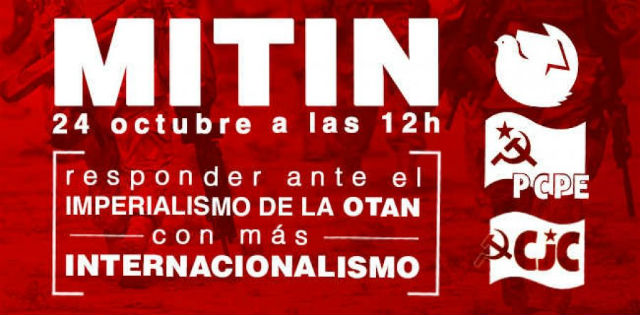 The Communist Party of Peoples of Spain (PCPE) participated in the anti-NATO demonstrations in Madrid on the occasion of "Trident Juncture 2015" manoeuvres.
ICP, 26th October 2015
The Central Committee of the Communist Party of Peoples of Spain (PCPE), had earlier expressed its rejection of the NATO manoeuvres and released a statement on October 4. PCPE had also called on the militants and friends of the Party to participate in the demonstrations on October 24 with the slogan "Responding to NATO Imperialism with more Internationalism". (See the link for related story on ICP)
On October 24, hundreds of people demostrated in Madrid against the wars and against NATO's military maneuvers and bases located in Spain. The General Secretary of PCPE Carmelo Suárez, General Secretary of Collectives of Communist Youth (CJC) and representatives from communists of Sahara, Columbia and Palestine also participated in the event.