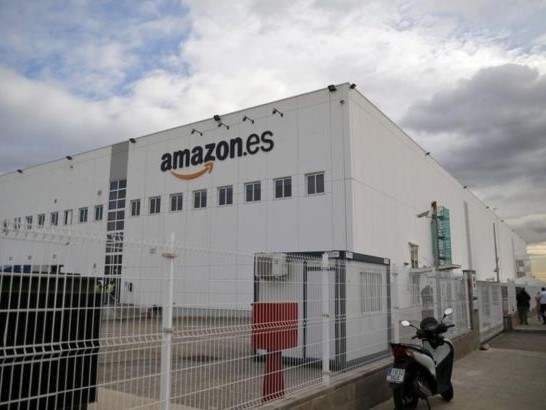 Police attacked Amazon workers' strike in Madrid, capturing a PCPE member.
ICP, 18 July 2018
Amazon workers in Germany, Poland and Spain are simultaneously carrying out a strike for improved working conditions. The workers who are on a three-day strike in the logistic center of San Fernando, Madrid are also receiving the support of the Communist Party of the Peoples of Spain (PCPE). On July 17, the national police brutally attacked workers and captured three of them, including the Secretary of the Regional Committee of the PCPE in Madrid, Hugo Carrasco.
In the statement released right after the police attack and detentions, the Political Bureau of the CC of the PCPE denounced the police charges and Amazon's attitude of hiring strikebreakers. The PCPE also denounced the role of the social-democrat Government Delegation in Madrid who does not hesitate to repress workers' mobilization in order to defend the interests of big monopolies such as Amazon.
Two of the workers, including Hugo Carrasco, were released in the same evening after the PCPE's demonstration in front of the police station where they were being held. After being released, Carrasco thanked his comrades and lawyers for their efforts and fellow workers who raised solidarity. Victor Llanos, Carrasco's lawyer, stated that the charges against the workers were not dropped and that one of the workers were still under detention. Llanos highlighted that they would continue the struggle until no one will be detained for going on strike. Workers are also calling on consumers to boycott Amazon as an expression of solidarity with their struggle.
The Communist Party of Turkey (TKP) released a statement denouncing Carrasco's detention. In its message, the TKP expressed solidarity with the PCPE and demanded the immediate release of all detainees. The Communist Party of Greece (KKE) also released a statement condemning the police repression and demanding all the unsubstantiated charges at the expense of the workers on strike to be dropped immediately. Emphasizing the anti-worker character of the bourgeois state and the anti-people politics of the social-democrat government in Spain, the KKE declared that this development has refuted "all those, the SYRIZA-ANEL government among them, that rushed to salute the formation of the new Spanish government as a supposedly positive development in favor of the people and the workers of Spain."
See the
link
for the statement of the Political Bureau of the CC of the PCPE in Spanish and English.