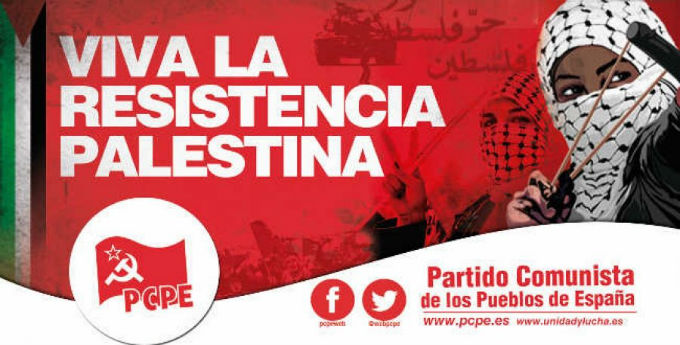 The Communist Party of the People of Spain (PCPE) has released a statement of support for the communists who are resisting against the Zionist occupiers and calling for a boycott of Israeli products.
ICP, 22nd October 2015
The Communist Party of the People of Spain (PCPE) expresses its support for the uprising in Palestine and its condemnation of the Israeli Government's dreadful violence against the resistance fighters.
In the declaration PCPE greets the Palestinian resistance and calls, especially the working class, strengthening the political and material solidarity with Palestine. PCPE's appeal includes boycotting Israeli products. 
PCPE continues as follows;
"We urge the central government and the rest of autonomous institutions and municipalities to end any collaboration with the Zionist entity, and also demand the establishment of penalties for the crimes against humanity since the beginning of the occupation. 
There can be no solution to the Palestinian and Arabic question without the recognition of a secular and sovereign Palestinian State with its capital in Jerusalem."
The statement ends by declaring particular support to all the communists fighting against the occupation in the forefront, and the young communists who respond to the Zionist occupiers with their stones, and their ideology of patriotism.
Besides PCPE's solidarity message, recently a mission of international solidarity with the Palestinian People, took place on October 10-13th, with the participation of communist parties from Greece, Portugal, South Africa, Germany, Belgium, Cyprus, and India.
See the link for an earlier solidarity statement by the Communist Party of Greece (KKE) on Palestine.