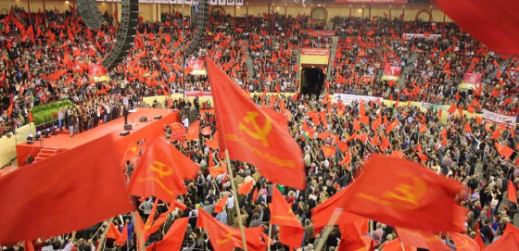 ICP, 11th September 2015
The General Secretary of the Portuguese Communist Party (PCP) Jerónimo de Sousa says the election results confirm the defeat of the projects which has been attacking people's rights.
After the elections the General Secretary of Portuguese Communist Party (PCP) Jerónimo de Sousa made a statement about the results of the election which was held on 4th October.
In his speech the General Secretary underlined the ideological pressure and blackmailing policy in the country before and during the elections.  Sousa continued as follows:
"The result obtained by CDU confirms its political expression achieved during the last elections and points to a progress in its vote which, in a result all the more important and as more demanding becomes the intervention, whether at the parliamentary level or in terms of struggle, in the near future will be part of the political and social life of the country."
GS's speech claimed  the most important result of the elections as being "the confirmed defeat of the PSD and CDS projects which has been destroying all the acquisitions and attacking people's rights".
The center-right coalition Portugal Ahead (PàF) between the Social Democrats (PSD) and the People's Party (CDS) had been able to emerge as the first political force with 38.6% of the share and around 46% of the seats in the Assembly. Despite this, they suffered a substantial loss in support of 12 points, and were not able to improve on the PSD's results in 2011 when it contested the election alone.