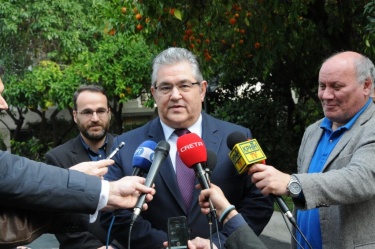 GS of the CC of the Communist Party of Greece (KKE) made statements after the meetings with the President and the Prime Minister.
ICP, 18 January 2016
The General Secretary of KKE, Dimitris Koutsoumpas, had a meeting with the President  Prokopi Pavlopoulo in early January this year. Koutsoumpas stated that they had exchanged views about internal and international affairs. KKE leader said he expressed their concerns about  the developments in Aegean Sea where the expansionary politics of the Turkish government are at stake.The risk of Greece's engagement  in the military interventions in Syria is reported to be another issue discussed in the meeting. Koutsoumpas also informed the press that he had presented KKE's position on the Cyprus issue, which they believed the main problem was created by the "big forces" as well as Turkey.
Later on 15th January, Dimitris Koutsoumpas had a meeting with the Prime Minister Alexis Tsipras. The General Secretary made the following statement:
"The meeting with the Prime Minister had an institutional character. He informed me about all the issues related to the domestic political situation, the developments in the economy, society and of course issues related to the international developments and our national issues. We highlighted the positions of the KKE in the discussion with the Prime Minister and how we see the situation today.
The Greek people, the popular strata, the youth cannot take anymore. They have paid very dearly during these crisis years and due to the recent SYRIZA-ANEL government. In particular, the measures on the way, aside from those that have already been passed by parliament, but those that are going to be tabled, like the social security legislation and further tax legislation, are hammering the popular strata.
The Greek people must respond dynamically. The KKE addresses this appeal for dynamic popular mobilizations so that all the sectors, all the organizations, the workers from the private and public sector, the unemployed, the pensioners, the urban self-employed, the poor farmers are ready to fight for substantial changes in a positive direction that will be benefit the people's interests."
Koutsoumpas also answered a question regarding any kind of consensus with the government as follows:
"It is well-known that the KKE does not consent to anti-people policies and we think that the government of Mr. Tsipras, the SYRIZA-ANEL government, by implementing the third barbaric memorandum, will certainly be implementing only barbaric anti-people policies in the next period."