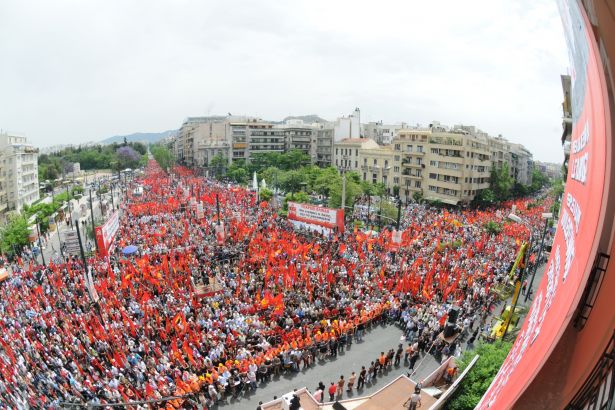 Communist Party of Greece (KKE) released a text calling for solidarity against the authoritarianism of Erdoğan and Turkey's intervention in Syria.
ICP, 10th April 2016
Communist Party of Greece (KKE) released a text and call for solidarity denouncing president Erdoğan of Turkey. The text which was calling for solidarity by signature, condemned Turkey's interventions in Syria and stated solidarity with the ones who are subject to prosecutions by the AKP government and President Erdoğan himself.
The full text and the initial signatories are as follows:
"AGAINST THE ANTIDEMOCRATIC POLICY OF LAW SUITS AND PROSECUTIONS IMPLEMENTED BY THE TURKISH GOVERNMENT AND PRESEIDENT T. ERDOGAN
We who sign this text denounce the authoritarian policies of the Turkish government and President T. Erdogan, who have unleashed a wave of law suits and trials against those that criticize the anti-people policies of the government of the AKP, Erdogan's party, the intervention of Turkey in the war in Syria, against those that struggle for social and democratic rights and for the just cause of the Turkish people.
We express our solidarity with those being persecuted and demand the end of every kind of persecution and attack on political activity, democratic freedoms and rights in Turkey."
Signatories:​
The Parliamentary Group of the KKE:
Dimitris Koutsoumpas,  President of the Parliamentary Group, GS of the CC of the KKE
Alexandra Papariga
Sakis Vardalis
Giannis Delis
Liana Kanelli
Nikos Karathanasopoulos
Christos Katsiotis
Giorgos Lamproulis
Diamanto Manolakou
Nikos Moraitis
Athanasios Pafilis
Kostas Stergiou
Manolis Syntichakis
Stavros Tassos
The KKE's Delegation in the European Parliament:
Sotiris Zarianopoulos
Kostas Papadakis
From local government:
Mayor of Patras, Kostas Peletidis
President of the Municipal Council of Patras, Katerina Geropanagioti
Mayor of Ikaria, Stelios Stamoulos
President of the Municipal Council of Ikaria, Nikos Lardas
Mayor of Kaisariani, Ilias Stamelos
President of the Municipal Council of Kaisariani, Giorgos Katimertzis
Mayor of Petroupoli, Vangelis Simos
President of the Municipal Council of Petroupoli, Thomas Kotsampas
Mayor of Haidari, Michalis Selekos
President of the Municipal Council of Haidari, Vasilis Pantelaros
The text is also signed by the Secretary of the CC of KNE and other cadres from the organization:
Nikos Ambatielos, Secretary of the CC  of KNE
Aris Evangelidis, member of the Bureau of the CC of KNE
Eleni Mitikari, member of the Bureau of the CC of KNE
Nikos Rempapis, member of the Bureau of the CC of KNE
Nikos Zacharopoulos, member of the CC of KNE
Aris Plomaritis, member of the CC of KNE
Fai Katsagiorgi, member of the International Relations Committee of the CC of KNE
Danai Chelmi, member of the International Relations Committee of the CC of KNE