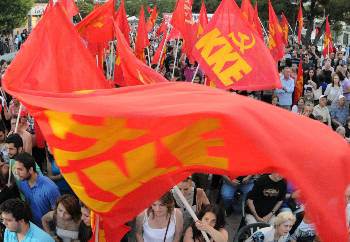 CC of the Communist Party of Greece (KKE) released a statement on the downing of the Russian warplane by Turkey, pointing out the provocative role of NATO.
ICP 25th November 2015 
Central Committee of KKE released a public statement in the aftermath of the downing of  the Russian warplane by Turkey and the killing of the pilot by the rebels.
KKE stressed out the responsible role of the SYRIZA-ANEL government besides NATO and EU, denouncing all as hypocrite and provocative.
The press release of the CC of KKE is as follows:
"NATO IS ADDING FUEL TO THE FIRE
The cover provided by the imperialist organization of NATO to the dangerous and adventurist act of Turkey, which shot down a Russian warplane engaged in operations in Syria on the 24th of November, once again demonstrates the danger of the war that has been underway in Syria for 5 years becoming more general. 
The SYRIZA-ANEL government bears grave responsibilities regarding the developments, as it goes along with other NATO powers in the sharpening of the confrontation. 
The aggressive murderous character of NATO has once again been demonstrated, as well as the dangerous and hypocritical stance of the USA, which denounces the alleged violation of Turkish airspace but is silent about the daily violations of Greek airspace by Turkey. 
The other political forces are exposed, as they have been telling lies to our people for many years that NATO and our country's participation in this organization are factors which safeguard peace and sovereign rights.
Today the slogan "No participation, no involvement of our country in this slaughter" is more timely than ever. This is a slaughter being led by NATO, the USA and the EU in the framework of their competition with Russia and other capitalist states."