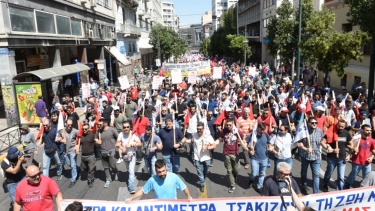 The CP of Greece stated that the large-scale strike on Wednesday meant a strong response to the demands of capital and the anti-popular government policy.
ICP, 31 May 2018
On Wednesday, 30th May 2018, a 24-hour Pan-Hellenic strike took place in Greece. According to the statement of the Communist Party of Greece (KKE), the struggle for the organization of this strike was particularly tough, since the compromised leaderships of the GSEE-ADEDY confederations, although they called a strike, did everything for its failure.
The compromised trade union leadership of GSEE and ADEDY called upon workers to demonstrate and strike for "boosting entrepreneurship and innovation". The KKE underlined that this demonstrates 'the demands and context of the OECD, the IMF, the EU, the ECB, the Memoranda and the Government'. The statment said, 'And they called this a "national plan"!'
On the other hand, the class-oriented trade unions rallying around PAME, have put forward a framework of demands and claims which brings the needs of the workers and their families to the forefront, against employers and governments. In 67 cities throughout Greece PAME organized gatherings with the following demands:
Increases in wages, pensions, social benefits.
Abolition of all anti-labour and anti-people laws and the 3 memoranda.
Restoration, obligingness of the Collective Agreements, no one below 751 euros.
Legislative regulation of the Sunday holiday.
No to the auctioning of the first property.
Down with the taxes – the big capital should pay them.
Abolition ofthe ENFIA tax and heavy taxation.
Abolition of the laws that hit Social Security and cut down pensions, such as Katrougalos' Law.
Recruitments in public hospitals and schools, permanent full-time teachers and health professionals of all specialties.
Speaking at the strike gathering in Athens, GiannisTassioulas, member of the Executive Secretariat of PAME and president of the largest sectoral federation of the country, the Federation of Construction workers of Greece, said: 'The government has acquired the talent of turning black into white on behalf of the capital. The capital, the government, the bourgeois parties and their forces within the labour movement will find us facing them all.'
The statement of KKE also noted that in all PAME demonstrations the speakers condemned the participation of the Greek government to the imperialist interventions and wars. In addition, they criticized the trade union forces which align with the so-called "social consensus" and in practice sabotage labour struggles and demands.
The GS of the CC of the KKE Dimitris Koutsoumpas attended the PAME strike gathering in Athens, where he made the following statement: "No illusions. The anti-popular attack will continue. SYRIZA and ND are trying to hide their strategic alignment through fake confrontations, through false promises. The workers' - popular movement must now be regrouped so that it will take the case in its own hands, with a strong KKE".