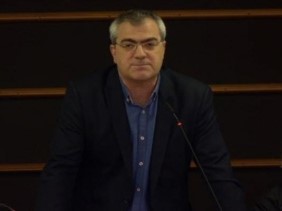 Intervention of Kostas Papadakis on the anti-communist prosecutions in Poland and Ukraine.
ICP, 6 August 2019
According to the press release that the Group of the Communist Party of Greece (KKE) in the European Parliament issued on July 25, Kostas Papadakis, MEP of the KKE, made an intervention on the anti-communist prosecutions in Poland and Ukraine in a debate with Commissioner Vĕra Jourová in the European Parliament's Civil Liberties, Justice and Home Affairs Committee. Papadakis denounced the Commissioner's unacceptable answers to the relevant questions of the Group of the KKE in the EP and EU's hypocritical interest in "human rights".
In her speech, Jourová claimed that the Commission acknowledges that each Member State has found its own approach to remembering its history and added that some Member States adopted legislation on banning the symbols of the Communist past. The Commission, Jourová declared, has always been firmly committed to the memory of totalitarian regimes.
In his answer, Papadakis reminded that the equation of communism with the fascist monster is unhistorical and insubstantial. Indeed, fascism and bourgeois democracy have something in common, which is the capitalist ownership, while on the contrary, in socialism wealth and power are in the hands of the people.
Papadakis criticized the hypocricy of the EU policy on "the situation in the sector of Justice" as follows:
"It turns out that the EU ... remembers 'human rights' and 'political freedoms' as a tool for interventions and to secure the interests it serves. It appears as a supposedly ... sensitive and unsolicited 'advocate of human rights', intervening in the internal affairs of states across the length and breadth of the world. It applauds and puts its seal on the escalation of anti-communism in a number of Member States which goes hand in hand with the intensity of its anti-labour anti-popular policy. At the same time, it seeks to tarnish the achievements of socialism in the workers' consciousness. Achievements that the peoples have experienced and still reminisce with high rates, as surveys in these countries show, despite all the mud and slander."
Criticizing the anti-communist prosecutions against communists in Poland, Ukraine and Baltic countries, Papadakis demanded the immediate cessation of all anti-communist prosecutions.
See the link for full statement in English, Spanish and Arabic.