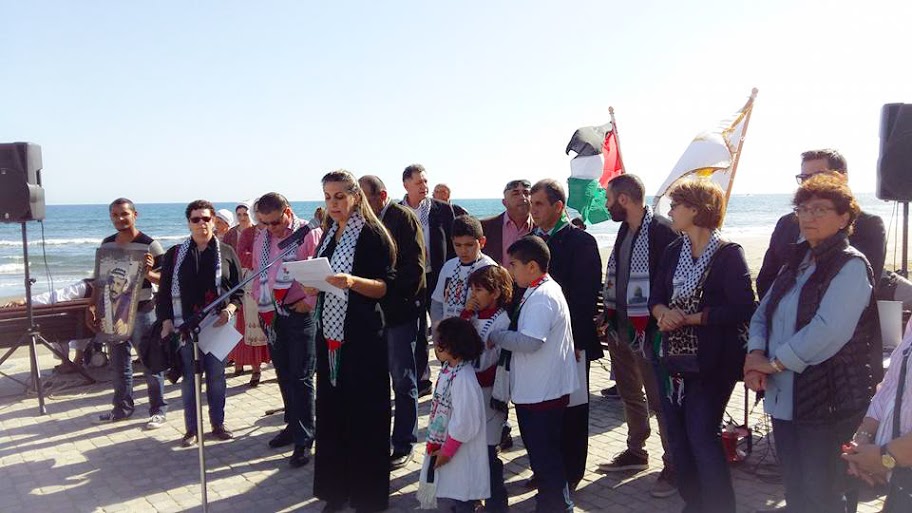 AKEL held an event for the International Day of Solidarity with the Struggle of the Palestinian People at Larnaca.
ICP, 30th November 2015
On the International Day of Solidarity with the Struggle of the Palestinian People, Progressive Party of the Working People (AKEL), held an event at Larnaca where Cypriots and the Palestinians living in Cyprus gathered.
At the event Chrystalla Antoniou, member of the Political Bureau of AKEL, made a speech which started with a solidarity message for the struggle of the Palestinian people. Antoniou continued with a reminder of the Israeli crimes against the Palestinians of the West Bank and said:
"All of these developments just demonstrate the ferocity of the systematic repression and state terrorism exercised by Israel against the Palestinians. They also demonstrate to the glory of the Palestinian people, who despite what they are suffering do not abandon the just cause of its struggle; it doesn't give up the cause of creating an independent Palestinian state; it doesn't lower the banner of its country, which has become a universal symbol of relentless struggle" .
Chrystalla Antoniou also called on every Cypriot man and woman to unite thier voices with the Palestinian people on behalf of the Central Committee of AKEL.
The Political Buraeu member added the list of their demands as:
The termination of the occupation and colonization of the Palestinian territories. The establishment of an independent, sovereign and viable Palestinian State on the 1967 borders with East Jerusalem as its capital.
An end to the inhumane blockade of Gaza.
The bringing down of the illegal Wall of Shame erected by Israel in the West Bank
The immediate release of all Palestinian political prisoners
The European Union should stop supporting the unacceptable policy of equal distancing on the Palestinian issue, suspend the EU Association Agreement with Israel, given that Israel is brutally violating Article 2 of the Agreement in relation to the respect for human rights.
​For the full text of Antoniou's speech see the link.