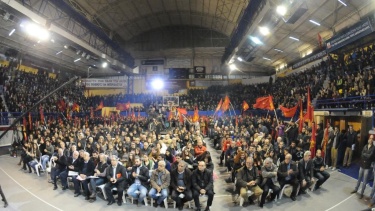 The Communist Party of Greece (KKE) organized an event against imperialist intervention and war in Syria with the participation of Communists from Syria Russia and Turkey.
ICP, 16th December 2015
The event of the KKE against imperialist war and Greece's participation in it was opened by a message of greetings from Yiannis Douniadakis, retired Rear Admiral. Then, the GS of the CC of the KKE, Dimitris Koutsoumpas gave the opening speech.
Koutsoumpas underlined the grounds of the war in Syria and warned about the possible new conflicts and wars as the consequences of the socalled solutions for  crises. The General Secretary emphasised that the people of the region had only one choice but unionise and struggle against imperialist monopolies.
Ammar Bakdash, GS of the Syrian CP; Victor Tyulkin, First Secretary of the Russian Communist and Workers Party, and Kemal Okuyan, Secretary of the CC of the CP, Turkey, also spoke at the event. 
See the link for the full text of Koutsoumpas' speech with the Russian and Arabic versions.