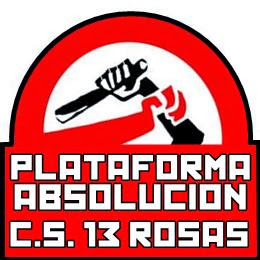 Youth Organization of PCE (UJCE) released a solidarity statement for the "Platform for the Absolution CS 13 Rosas", which was formed against the police repression and arrest of their members.
ICP, 5th November 2015
UJCE released a call for international solidarity with its two members, Jesús and Elena, who are currently facing a judicial process at the end of which they can be charged with 4 years of prison under false accusations. 
Youth Organization of PCE states that "the Spanish police unfairly and intentionally denounced their comrades in an attempt to justify their illegal actuation", under the veil which accuses two UJCE members of "an attack against authorities, resistance and disobedience".
Jesús and Elena, was arrested after an event organized by STOP REPRESSION in the local headquarters of Communist Party of Spain (PCE) on March 3rd 2014. STOP REPRESSION is an initiative led by UJCE with the aim of organizing activities against the police and legal repression.
The location the event was held was "an open space to other class movements under the denomination of "Social Center 13 Roses" in honor to 13 comrades who were killed after the Spanish civil war". The Spanish police forcibly entered the PCE headquarters during a party held after the event and arrested Jesús and Elena.
The "Platform for the Absolution CS 13 Rosas" covering several social movements, political parties and trade unions of the city was created in Alcalá de Henares after numerous similar incidents.
UJCE calls for international solidarity since the aforementioned judicial process will be coming to a conclusion soon.
You can find the full statement of UJCE below.
Download