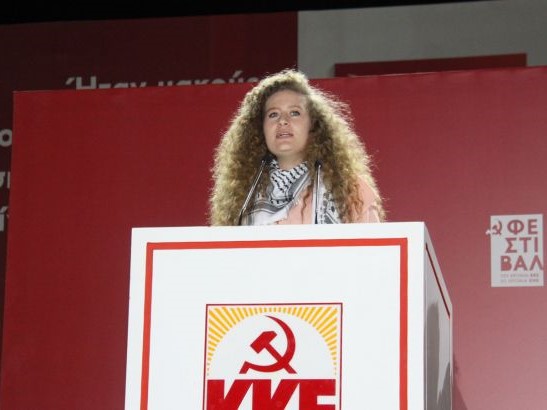 Dedicated to the 100th year of the KKE and the 50th year of the KNE, the 44th KNE Festival received more than 120 thousand participants.
ICP, 26 September 2018
The 44th festival of the Communist Youth of Greece (KNE) was held on September 20-22 in Athens. The festival was dedicated to the 100th year of the Communist Party of Greece (KKE) and the 50th year of the KNE. Leaving behind the previous festivals in terms of participation number, the 44th Festival received more than 120 thousand participants on its last day. In addition to the concerts of dozens of musicians, theatre spectacles and numerous political-cultural events, the main exhibition was reserved for the history of the 100 years of the KKE. The 40 anti-imperialist youth organizations that were invited by the KNE attended the festival and took place in the international events.
The first international event organized within the framework of the festival was the ideological seminar on the teachings of Karl Marx 200 years after his birth. Young communists from all around the world expressed the timeliness of Marx's contribution 170 years after the first publication of the Communist Manifesto as an intellectual revolution but at the same time as a revolutionary programme for the working class. Solidarity event with Cuba and discussion on anti-imperialism were among the international events that took in the festival area on the second day of the festival.
On the last day of the festival, the young Palestinian activist Ahed Tamimi attended the major political event that was held with the great attention and enthusiasm of the audience. Claiming, "There will be no peace in the world until peace prevails in Palestine", Tamimi promoted the struggle of the peoples against exploitation, capitalism and colonialism for overthrowing imperialism and thanked the KNE for their invitation and comradeship. It was the Secretary of the Central Council of the KNE, Nikos Abatielos, who took the floor after Tamimi and who expressed the success that the events for the 100 years of the KKE and 50 years of the KNE obtained all along the festival process. Lastly, Dimitris Koutsoumbas, the General Secretary of the CC of the KKE, took the floor. Exposing the anti-people character of the SYRIZA-ANEL government, Koutsoumbas called upon the Greek youth to strengthen the KNE and KKE.