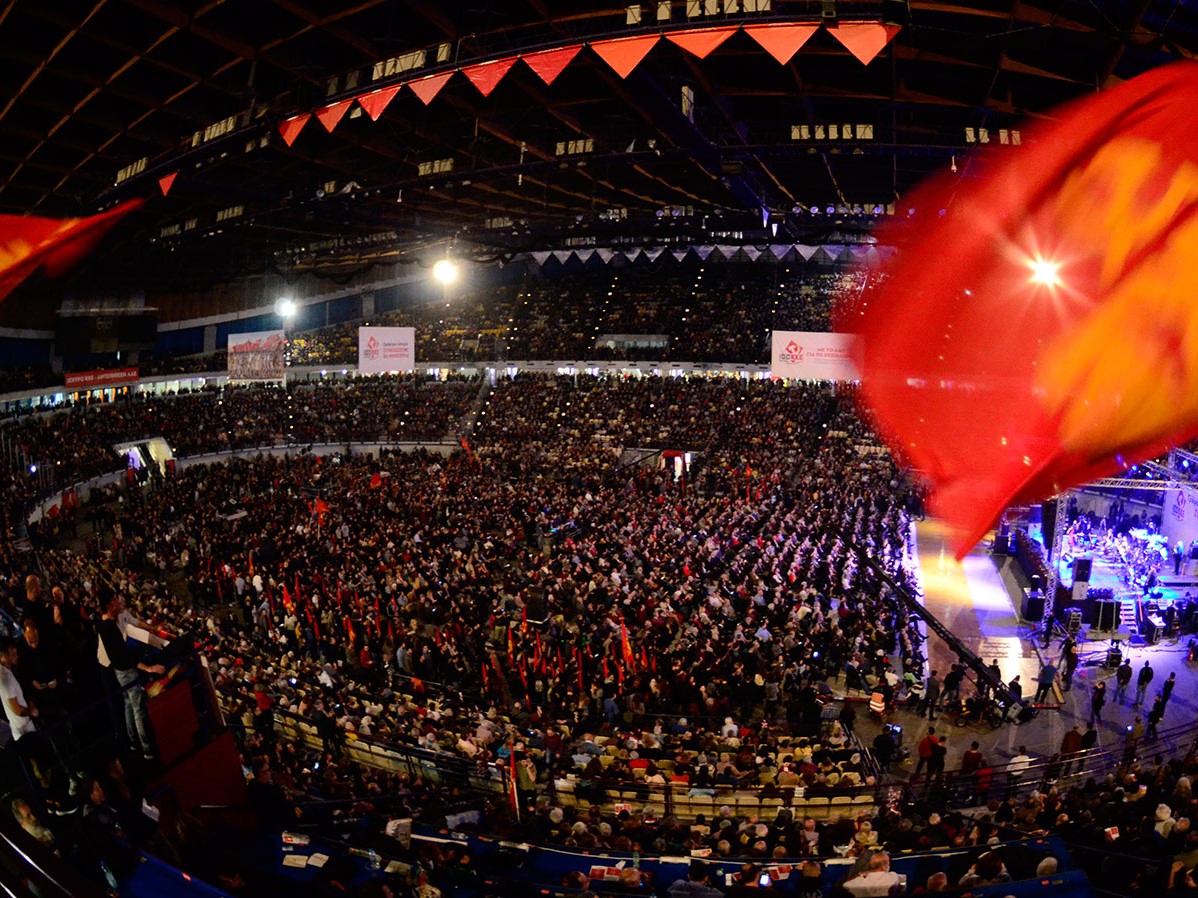 The Communist Party of Greece celebrated its 100th year with a spectacular event in Piraeus.
ICP, 28 November 2018
On Sunday, the Communist Party of Greece (KKE) celebrated the 100th anniversary of its foundation with a glorious political and cultural event at the Stadium of Peace and Friendship in Piraeus, the city where the Party was founded in November 1918.
The spectacular atmosphere created by thousands of participants was further enhanced with the participation of the international delegates for the 20th International Meeting of Communist and Workers' Parties and concerts of famous Greek artists.
The General Secretary of the Central Committee of the KKE, Dimitris Koutsoumbas, honoured thousands of young communists who took on and held the baton from the older communists of the first communist cells, the militants of EAM and ELAS, the fighters of the Democratic Army of Greece, from all those who endured the stone years, the dictatorship, all the turns of the class struggle. He added that they hold this baton tightly, without letting it fall from their hands. Koutsoumbas described the determined stance of the KKE through an analogy:
"We swam against the tide, we closed our ears to the sirens, we upset some friends and comrades who wanted 'softly, softly..', who asked us to put water in our wine. We did not do it and it has been demonstrated that we were very right not to, because we knew that in the end there will be only water in the glass, murky and dangerous. And we did not do this, because our party with its hundred years of experience, does not have the luxury of making mistakes that will set the movement back, that will hinder its ability to regroup, to counterattack, to move forwards and to target the barbaric power of the exploiters. Going against the tide, we won the consciousness of new militants with the simplest and also must substantial slogan that was born on the streets of struggle: 'Worker without you no cog can turn, you can do without the bosses.'"
See the
link
for the speech of Koutsoumbas in English, Russian, Spanish, Arabic and French.