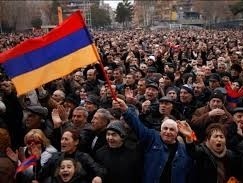 CP of Armenia welcomes the changes that brought the Pashinyan administration.
ICP, 20 September 2019
On September 12, the Communist Party of Armenia issued a statement in which it treated the political process that Armenia went through since the collapse of the USSR. The Party notes the positive and negative aspects of the Pashinian government.
The Party underlines that after the dissolution of socialism in Armenia, like in other Soviet Countries, the situation worsened for people. The economy was brought to a standstill and the structures were left to rust, hence Armenia became a country of mass unemployment and mass poverty. Armenia also went to war with Azerbaijan to defend the people of the enclave region of Nagorno-Karabakh. In the elections that followed the dissolution, the Communist Party's seats dropped from 136 in 1990 to 10 in 1995. The suppression of the Party, which started after the collapse, resulted in the confiscation of buildings, offices - including the headquarters and the branch offices - throughout the country as well as all other assets that belonged to the Party.
According to the analysis of the Party, in April 2018, one slogan formulated by Nikol Pashinyan captured people's attention; "Reject Serj" referring to Serj Sargasyan, the then president of Armenia, who was in the process of changing the country's presidential system to a parliamentarian one which he would then lead as prime minister. The political change that took place - that came to be referred to as a revolution - was defined by Pashinyan as anti-corruption, non-violent, democratic and national. The Communist Party's assessment of the changes was that they were just cosmetic, not in-depth and lacking in substance. The leadership of the Communist Party of Armenia agreed on the strategy of supporting the present government on the merits of those of its policies that serve the people and particularly the working class, farmers and the poor, but also reserves the right to criticise and struggle against those policies that are not beneficial and which do not serve the interests of the working class and the people as a whole.
The Party believes that the changes that have taken place in Armenia are positive but that further changes need to take place in order to move in the correct direction. It proposes a strategy of peaceful coexistence with neighboring countries, Russia in particular. The Party sees Russia as an important geopolitical partner and a relationship which has to be nurtured.
See the
link
for full text.