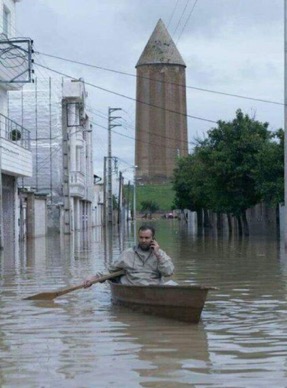 The Tudeh Party of Iran issued a statement concerning the flash flooding and the incompetence of the Iranian authorities.
ICP, 30 March 2019
In the statement issued on March 26, the Tudeh Party of Iran expressed its sympathy with the Iranian families left bereaved by the floods. The statement read as follows: "Flash flooding in a number of provinces across Iran during the early days of the Iranian New Year [starting 21 March] have left dozens of people killed and major property damage. Heavy flooding started on 23 March in the northern province of Golestan which caused serious damage and a critical situation in the Torkaman-populated areas… At least five people were killed on the first day of the flooding."
According to the TPI statement, "the town of Aq Qaleh, in Golestan province, was submerged under two meters of water." This followed the decision taken by officials to open the gates of an upstream dam - under strain owing to the heavy rains over preceding days - with the Iran-Turkmenistan freight rail line (built atop a 3-metre-high embankment) acting as a levy, meaning the surrounding area was submerged by the floodwater.
The statement added: "According to Iran's Red Crescent, at least 19 people were killed in floods across the county; 17 of them in Shiraz [in the south-central province of Fars], one in Kermanshah province, and another in Lorestan province. At a time when the floods have left a large number of families in need of first aid and assistance, and inflicted severe damage, the incompetent authorities of the government have been practically idle in delivering emergency assistance to the victims of the floods."
The TPI statement went on to address the systemic issues in Iran's environmental and development programs: "According to the appraisal of environmental experts and professionals, the damaging policies of the theocratic regime of Iran in its uncontrolled and unregulated expanding of residential areas; blocking the water-escape routes to rivers and lakes; poorly-planned construction of many dams without considering their environmental impact; failure to dredge the beds of the dams leading to accumulation of sediment and sludge on the bottom of the dam basin; massive-scale deforestation; and heavy damage to the environment over recent years and decades, have left many regions of the country prone to flood devastation… In Shiraz, the filling-up and levelling of one of the water-escape channels to build a road, without leaving any channels for the excess rain water to run-off freely, led to the disastrous floods on Tuesday following the heavy rain. The victims of the flood are paying dearly for the incompetence and negligence of the authorities."
The statement asserted, "In the government aid agencies' omitting to help the flood victims, the people themselves and aid volunteers have graciously taken the matter into their own hands." At the end, the Tudeh Party of Iran asked all the patriotic people and activists of Iran to help the victims however they can.