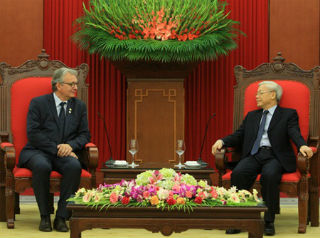 The leadership of PCF and CPV held a meeting in Vietnam on the developments of their strategic partnership. 
ICP, 28th October 2015
According to the Viet Nam News (VNN), The National Secretary of the French Communist Party (PCF) Pierre Laurent visited Vietnam and held bilateral meetings with CPV General Secretary Nguyen Phu Trong and Prime Minister Nguyen Tan Dung in Ha Noi.
In the meeting with the General Secretary of CPV, Laurent stated his appreciation of the strategic partnership between the two countries and also hailed "the significant achievements that Viet Nam had gained during 30 years of "Doi moi" (Renewal) amid global economic and financial crisis, saying under the leadership of the Communist Party of Viet Nam (CPV)."
In return, CPV General Secretary Trong praised the PCF for developing rapport between the two countries at both local and central levels, and promote relations with the CPV as well as Viet Nam-France and Viet Nam-EU relations.
The PCF National Secretary, also visited the Prime Minister Dung, who emphasized the importance of the relations between the Vietnamese and French communist parties to push the countries' comprehensive cooperation to the next level.
It was reported that as an outcome of the meetings the PCF and CPV agreed to carry out activities in 2020 on the occasion of the 100th founding anniversary of the PCF, of which late President Ho Chi Minh was among the founders.