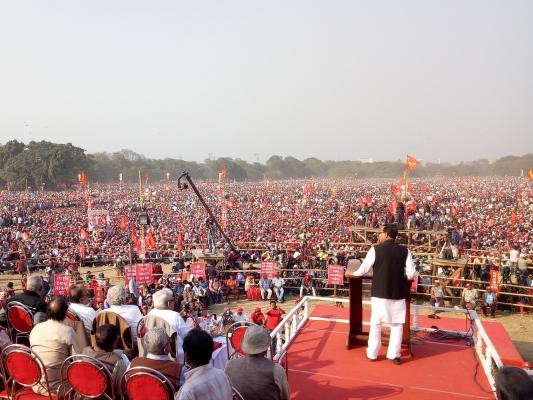 The election rally organized by the CPI(M) mobilized a million people in Kolkata.
ICP, 6 February 2019
On February 3, one million people gathered in Kolkata for "People's Brigade" rally to oust the Bharatiya Janata Party (BJP) government from West Bengal in the forthcoming elections. The election rally was organized by the Left Front, an alliance led by the Communist Party of India - Marxist.
"We do not want to defeat Modi just because we don't like him. We want to remove him because we don't like his policies. We have to fight for an alternative secular and democratic government," said CPI(M) General Secretary Sitaram Yechury. He also criticized the "sham opposition" waged by the All-India Trinamool Congress (TMC) Party and claimed that the BJP and TMC are two sides of the same coin.
CPI(M) Polit Bureau member and Lok Sabha MP, Mohd Salim defined the spectacular red crowd as one of "the largest assembly of downtrodden people –farmers, workers, students and youth" and asserted, "Any attempt to stall the march of this 'red sea' will create a tsunami in the political scene and will sweep away anti-democratic and communal forces like Prime Minister Narendra Modi and his communal brigade and their covert ally, TMC supremo Mamata Banerjee and her party in Bengal."