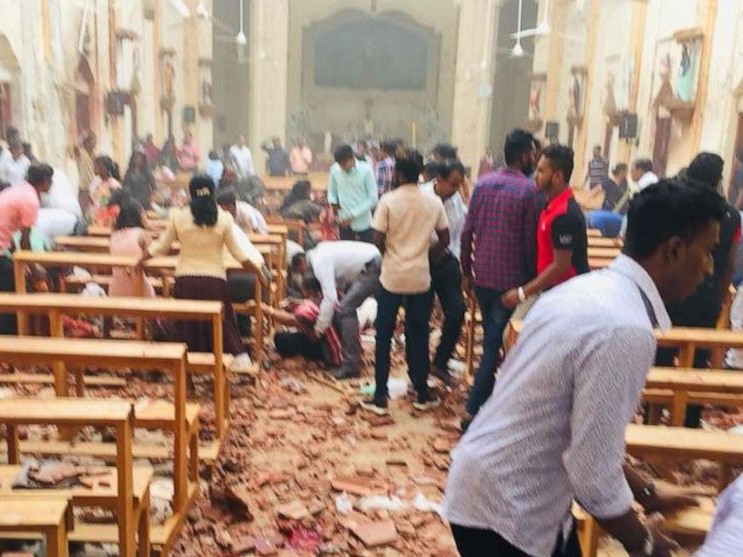 People's Liberation Front (JVP) of Sri Lanka condemns the barbaric attacks of April 21.
ICP, 24 April 2019
In Sri Lanka, more than 300 people have been killed at suicide bomb attacks that occurred in eight places including hotels and Catholic Churches on Easter Sunday, April 21. The statement issued by the Political Bureau of the People's Liberation Front (JVP) declares that they detest and strongly condemn this cowardly and barbaric attack. The statement reminds the government's responsibility to hold a prompt inquiry regarding the incident, reveal the truth to the country, take legal action against the perpetrators, and to prevent any distress that would occur in the country due to the incidents. The JVP calls upon all Sri Lankan masses not to engage in conflicts based on this incident and not to be a party if the incident is used to create communal and religious clashes. The JVP offers deepest sympathies to the relatives and loved ones of those who died in the incident and wishes speedy recovery for the injured.
The Communist Party of Turkey in a statement condemned this barbaric attack and all the reactionary acts against the unity of the working people of Sri Lanka. The Party expressed condolences to the families of those who lost their lives.
The Communist Party of Greece condemned with indignation the murderous attacks. The Party reminded that various armed criminal groups are being used by system forces in the context of imperialist plans and competitions. Reminding the responsibility of the authorities to identify and punish the perpetrators of this crime, the Party expressed its condolences to the families of the victims.
The Communist Party of India (Marxist) expressed its strong condemnation and outrage at the blasts and expressed its solidarity with the Sri Lankan people. "This horrific attack highlights how terror motivated by religious extremism is increasingly targeting minorities in the respective countries of South Asia" stated the CPI(M) and underlined the necessity to combat religious extremism in all its forms. The Party hoped all efforts will be made to track down the culprits and group responsible for the massacre and severe action taken against them.