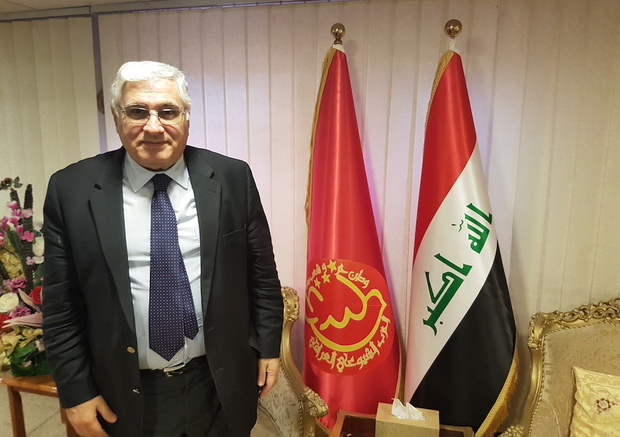 As Iraqi Communist Party enters elections with Sairoun Alliance, GS of CP warns against escalation with Iran and anticipates divergance from secterianism.
ICP, 11 May 2018
General Secretary (GS) of the Iraqi Communist Party, Raid Jahed Fahmi told Middle East Eye that any war between the two countries would risk stirring up sectarian tensions in the country again."Iraq should be not be involved in any military conflict on one side or another" Fahmi said, "Rather, we have an interest to maintain peace. All political groups [in Iraq] recognise the need to maintain peace, because we know that the first country to pay the price is Iraq.  Iraqis will pay the price in terms of stability, in terms of terrorism, in terms of destruction and so on."
After the withdrawal decision of US President Donald Trump from the 2015 nuclear deal with Iran, Israel had welcomed the withdrawal and attacked Iran's military forces in Syria claiming that it was a response to the missiles fired at Israeli forces from Iran's Quds Force. The influence of Iran can also be traced in Iraq, as the country enters elections on 12 May. While the two major political coalitions have direct political ties with Iran, the Iraqi CP is part of the Sairoun Alliance, backed by the influential Shia cleric Muqtada al-Sadr. The GS of the Iraqi CP is also a former government minister and parliamentary candidate for the Alliance. 
The contraversial coalition between secular communists and Islamists is justified by Fahmi as having a social base deriving from the poor, the working class and those angry at the corruption and unemployment currently afflicting the country. Recent moves by Sadr to reach out to Sunni voters and condemn sectarianism in favour of a national approach have also been warmly welcomed by the Iraqi CP. Fahmi argued that politics in Iraq is turning away from "confessionalism" and focusing on genuine bread-and-butter issues, such as unemployment, poverty and corruption. That's why the Iraqi CP is concerned about a new conflict with Iran that would damage such progress.
According to the article of MEE, despite a longstanding suspicion among many Muslims of "atheist" communism, this time the communists of Iraq have found an audience ready to listen.The GS of the Iraqi CP is confident that an ideological shift is coming in Iraq, more in line with the kind of analysis and predictions made by the party's political forebear. As the elections in Iraq take place a week after the 200th birthday of Karl Marx, Fahmi said "I think many of [Marx's] ideas are up to date, particularly with regards to globalisation. His ideas are still fresh - they apply now more than they applied 200 years ago."