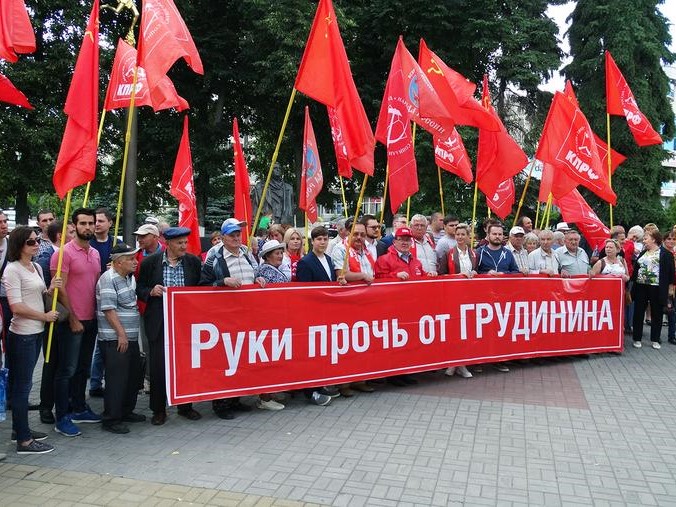 CPRF calls for an end to political abuses disguised as a court ruling on Pavel Grudinin.
ICP, 18 July 2019
According to the communiqué sent by the International Department of the Central Committee of the Communist Party of the Russian Federation (CPRF), Pavel Grudinin and the Lenin Collective Farm, at which he serves as the director, are subject to political and judicial attacks. Grudinin ran for President in the 2018 elections as a non-party candidate of the CPRF and became the runner-up winning millions of votes. After Grudinin's candidacy, the Lenin Collective Farm, the last "people's" agricultural enterprise located near Moscow and "an island of socialism amid a sea of capitalist lawlessness" has recently encountered many problems.
The CPRF states two main reasons beyond these attacks. First, the authorities did not appreciate Grudinin's constantly growing popularity as a politician and skillful manager. Second, the farm is situated just outside Moscow and its land could make an excellent place for building cottages. Accordingly, attempts to seize collective farm lands dramatically intensified. Following several plaintiffs, the Prosecutor's Office of the city of Vidnoye which has jurisdiction over the Lenin Collective Farm accused Grudinin of financial irregularities, an accusation which, in the opinion of the CPRF and independent experts, is totally ungrounded.
The CPRF concludes: "By deliberately greenlighting the raiders, the authorities are not just settling accounts with the man who 'had the gall' to challenge them, but at the same time are destroying the last oasis of socialism in the Moscow region, which, against the background of miserly wages, disarray and desolation reigning at the enterprises of 'capitalist labour' presents them in a very unseemly light."
The Party calls on all those who cherish the ideas of justice to support Pavel Grudinin in his struggle against court abuses and to prevent the destruction of an enterprise which is the showcase for all the advantages of the principle of running the economy in the socialist way.