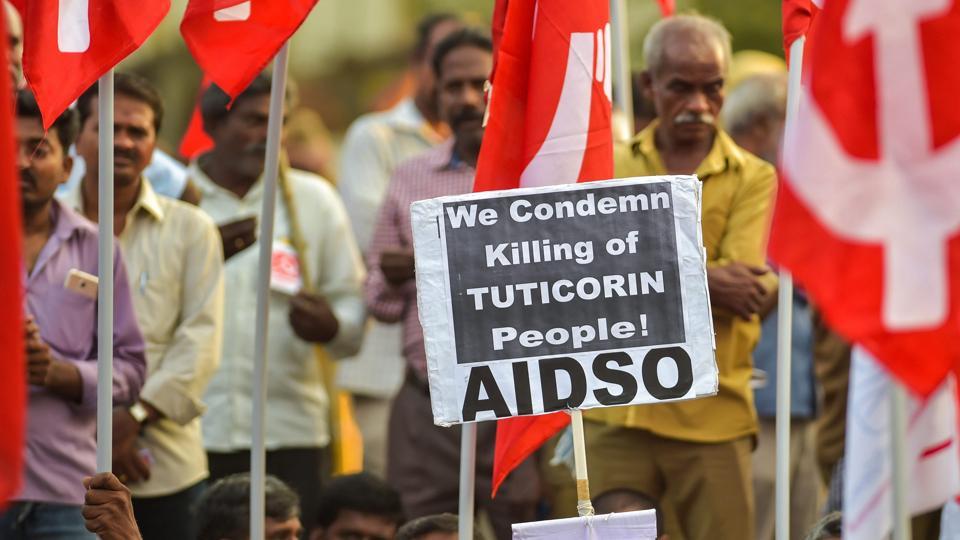 The Communist Party of India declared that the police attack towards anti-sterlite protestors in Tuticorin is 'State sponsored terrorism'.
ICP, 31 May 2018
On 22nd May, in Tuticorin, a coastal district of the state of Tamil Nadu, a peaceful protest against the Sterlite Copper Plant was subjected to a murderous police attack. The police fired at the protesters killing 13 and injuring more than a 100 people. Hundreds are also reported missing. The people were demanding clean air for breathing and clean water for drinking and irrigation. Six days after the incident the Tamil Nadu Government ordered 'permanent closure' of the plant based on the Water Act of 1974 on behalf of 'larger public interest'. The plant was sealed by the Tamil Nadu Pollution Control Board whose Chief Minister said, "we have taken this decision as a mark of respect t the feelings of the people". 
The Communist Party of India welcomed the decision to close the plant permanently, but also asked, "Why did the Chief Minister Mr Edappady K Palanisamy chose not to understand the feelings of the people for the long 99 days of their peaceful protest? Why is that only after the blood bath he his feelings have awakened?"
According to the statement of the CPI, this was not a flash strike that the government was caught unawares. It was the day marking 100 days of the continuous struggle of the people of Tuticorin demanding closure of the Sterlite Copper plant. They were marching towards the district collector's office when the police descended to disburse the mob. Although it was a civilian protest, it was treated like a war. There were no stipulated public announcements before opening fire and assult rifle bullets instead of rubber pellets were used, directly targeting the protesters' chests.
The Sterlite Copper Plant is a business unit of Vedanta limited, a subsidiary of the London based metal major Vedanta Resources Plc. The Sterlite has a notorious history of a serial offender and before entering into Tamil Nadu it was chased out of the state of Maharashtra in the year 1993 by the then Sharad Pawar Government. Then in the year 1994 the copper plant found its foothold in Tamil Nadu, grossly violating all the norms.
It was reported by the National Trust for Clean Environment in the years 1998, 1999, 2003 and 2005 that the Sterlite plant was polluting the air and water, contaminating the soil, emitting hazardous gas, producing products that it was not authorized to etc., and also that the Sterlite plant was flouting all the environment laws. 
On the other hand, the company fell into disrepute owing to its corrupt relations with the ruling parties. In 2014, in response to a Public Interest Litigation the Delhi high court indicted that the Bharathiya Janata Party (BJP) in 2009-10 and the Congress Party 2004-2005 had received foreign funds from Vedanta in violation to the provisions of Foreign Contributions (Regulation) Act.
The CPI said, 'People of Tuticorin may not be aware of this deep rooted corruption that has caused loss of lives, deformities, ill health and sufferings. All that they demanded was their fundamental right to breathe clean air, pure water to drink.  This is the right assured to every citizen in the constitution.  But the entire system has betrayed the people their capitalist cronies.... Ruling AIADMK is surely emboldened to do such heinous crime only with the approval and support of the ruling BJP. Both are corruption tainted. People have begun to react. These governments will be thrown out with people's power.'