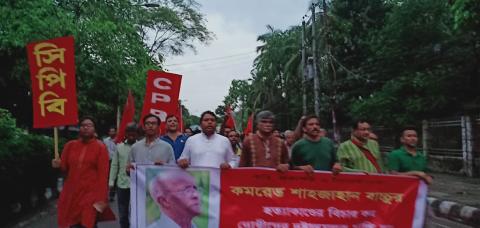 Communist Party of Bangladesh protested killing of former GS of Munshiganj Disctrict Committee and asserted that the government is nurturing terrorists. 
ICP, 16 June 2018 
The Communist Party of Bangladesh (CPB) organized a protest rally against the killing of former General Secretary of CPB Munshiganj district committee, poet and publisher Shahjahan Bachchu. The meeting was held in front of the National Museum in Shahbagh on June 12 and CPB Assistant GS Sajjad Zahir Chandan and GS of Dhaka Committee Dr. Sajedul Haque Rubel.
General Secretary of CPB Shah Alam said that the killings are being organized in one country after another, but the government is indecisive and there is no fair trial of any killings. He said, 'Thus the lawlessness led the country to despair. The CPB GS condemned the killing of Shahjahan Bacchu publicly and protested that there is no security for human life in the country.
According to the statement of GS Shah Alam, 'Instead of suppressing terrorists, the government is nurturing terrorists. As well as state terrorism is going on. The killing of Shahjahan Bachchu has highlighted the extreme deteriorating situation in the country's law and order situation.'
In a speech during the rally, it was reminded that Shahjahan Bachchu had played an important role to advance the Communist Party in Munshiganj. He had been active in free movement through progressive literature and publication.
'Perhaps the terrorists could not tolerate this ideological firmness of freedom' said CPB Assistant GS Sajjad Zahir Chandan, 'Against terrorism, reactionary, anti-terrorism will create a strong movement against the inaction of the government.'
The rally was promptly demanded to arrest the murderers and set them on trial. At the end of the rally, a demonstration rally demanding the trial of Shahjahan Bachchu was carried out after crossing the streets in Rajshahi Memorial Sculpture in TSC.