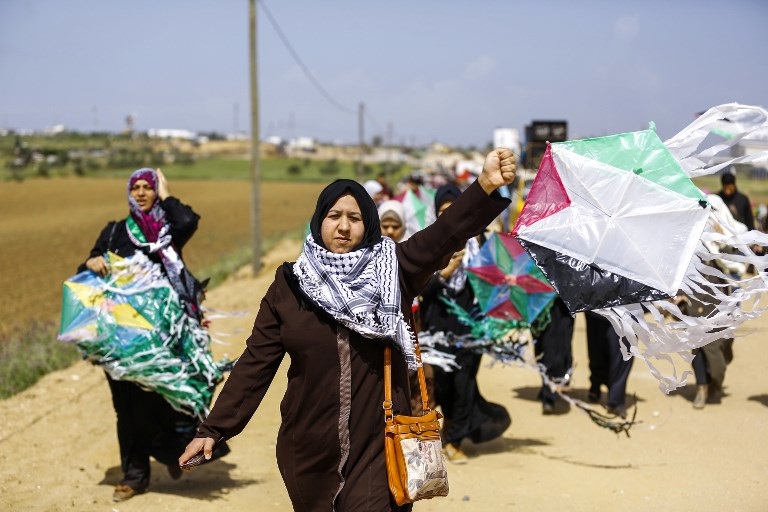 On 42th anniversary of Land Day, Palestinian CP called to unite the people in the struggle for land; Palestinan People's Party called to re-unite under PLO.
ICP, 30 March 2018
On 30th March 1976, the Palestinian people had massively responded to the confiscation and Judaization of Palestinian land and this day is commemorated as the Land Day manifesting the determination of the Palestinian people to return to their homeland. The Palestinian Communist Party (PCP) and the Palestinian People's Party (PPP) issed statements on the ocasion of the Land Day.
The Palestinian Communist Party said that the division of the Palestinian people can only be overcome by the struggle to return to the land with compensation. In its statement on 29 March, the PCP expressed that the arena is witnessing a division at all levels. What is permenant, it said, is only the steadfastness and resistance of the Palestinian people, against criminalization and prohibition.
According to the PCP, the divided parties of Fatah and Hamas bear the burden of of the weakness of the Palestinian arena. The statement said, "While we condemn the split, we acknowledge that the Palestinian-Palestinian division is only a dispute over the interests of the same class and it does not belong to the homeland and is not concerned with citizens", reminding that the split does not appear on a disagreement between programs which proves that the two sides of the division are the two sides of the same coin. The PCP finally underlined that the issue of the land has been and still is the center of the Palestinian struggle and taken by the PCP as an "axis of activity".
The Palestinian People's Party issued a statement on 30th of March, warning against the threat aiming to eliminate the Palestinan cause by dispersing the unified political representation of the Palestinian Liberation Organization (PLO). The PPP underlined the need to develop a strategy to re-unite the Palestinian people under the banner of the PLO. According the the statement, the next step of PLO should be to establish alliances "against the blackmail of the US administration which is totally biased towards occupation and its bloody, terrorist policies".
The PPP reiterated its call to declare the borders of the Palestinian state with its capital in Jerusalem and to call the international community to recognize it. It stressed the need to embrace the people in the Gaza Strip because "they will play a key role" in holding the land and downthrowing the settlement project of 1955.