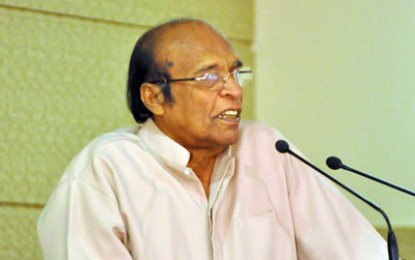 ICP, 16th October 2015
CPSL criticizes the government's position of co-sponsoring US on the recent resolution of the United Nations Human Rights Commission (UNHRC) about the human rights issue in Sri Lanka.
The Communist Party of Sri Lanka (CPSL) criticized the government's position on the recent resolution of the United Nations Human Rights Commission (UNHRC) about the human rights issue in Sri Lanka with a statement by the General Secretary  D. E. W. Gunasekera.
Gunasekera stressed that sovereignty of Sri Lanka should never be compromised and proposed an internal investigation about the alleged war crimes committed during the years of civil war.
Gunasekera, underlining the U.S sponsor behind the resolution, pointed out that the most important thing about that was the government's attitude to be a co-sponsor of the resolution against the country. 
The statement also referred to position of China and Russia on the issue and argued their "principled position" that Sri Lanka should be allowed to handle its domestic problems without foreign interference, was constructive.
The statement ends as follows:
"Conscious of the global strategies and geopolitical interests of the Western Powers, the Communist Party prevailed upon the previous Government not to allow conditions to be created for the intervention of the external forces in internal affairs.
In this context, the Communist Part of Sri Lanka is equally conscious of the political and military interventions of the Western Powers in the Middle East causing death and deprivations to the people and physical destruction to the affected countries.
It is in this context, that the Communist Party of Sri Lanka examined the resolution both in letter and spirit. It reiterates its position to demand a domestic inquiry into the allegations and an exclusive domestic mechanism for the purpose. However cannot subscribe or contribute to the need for all foreign element in this respect, Sri Lanka's sovereignty not be compromised in any manner."
The UN resolution on Sri Lanka
The UN resolution adopted in Geneva early October 2015, mainly alleges that the both sides of the Sri Lanka civil war committed war crimes over a nine year period up to 2011.
UNHR Commissioner Zeid Ra'ad Al Hussein has summarized the allegations of the investigation as "indiscriminate shelling, extrajudicial killings, enforced disappearances, harrowing accounts of torture and sexual violence and recruitment of children."
The report argues that crimes like "forced recruitment" and the "denial of humanitarian assistance", if proven in court, would be war crimes.
The 26 years of war between the Tamil Tigers and the Sri Lanka government left more than 100,000 people dead had ended in the year 2009.