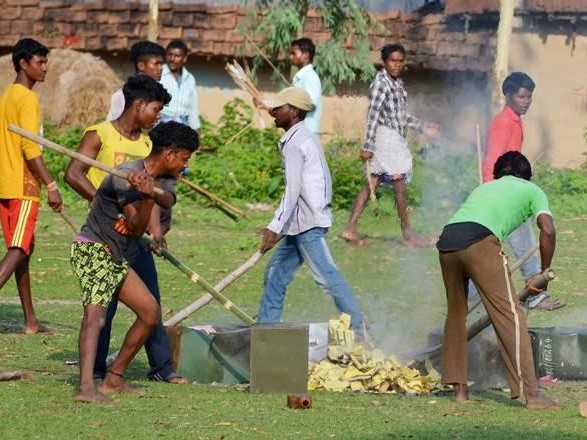 West Bengal Panchayat elections were terrorized by the ruling TMC. CPI(M) strongly condemns the barbarity.
ICP, 17 May 2018
West Bengal Panchayat elections took place on May 14 despite incidents of violence and loot of ballot boxes, which were resorted by the ruling party Trinamool Congress (TMC) according to witnesses. 12 people were killed and 43 were injured on the day of the Panchayat polls. Candidates and activists of the Left have lost their lives, including a couple of comrades (Debu Das and his wife Usha Das) of the CPI(M), who have been burnt to death in their own house.
The Communist Party of India (Marxist) asserts, "no condemnation is strong enough to denounce the barbarity which West Bengal is witnessing today to ensure TMC's project of capturing cent percent of elected panchayat bodies of the state." Pointing out the impossibility of free and fair poll with the active involvement of the TMC-led administration, the CPI(M) puts forward that the role of the State Election Commission has been obnoxious and the distinction between the TMC, the state government and the SEC has been completely obliterated. On the other hand, there takes place spontaneous resistance of the people, which has in its forefront the CPI(M) and the Left. The CPI(M) appeals to all peace and democracy loving people in the country to raise their voice against this violence and murder of democracy by the TMC and urges all their units to protest "this cold-blooded murder of democracy and people's right to vote" urgently and to organize widespread protests by mobilizing the people.
See the 
link 
for the statement and for a detailed fact sheet of the sequence of violence.